Experience a live product demo of Burp Suite Enterprise Edition
See a selection of core features, and get to know your way around.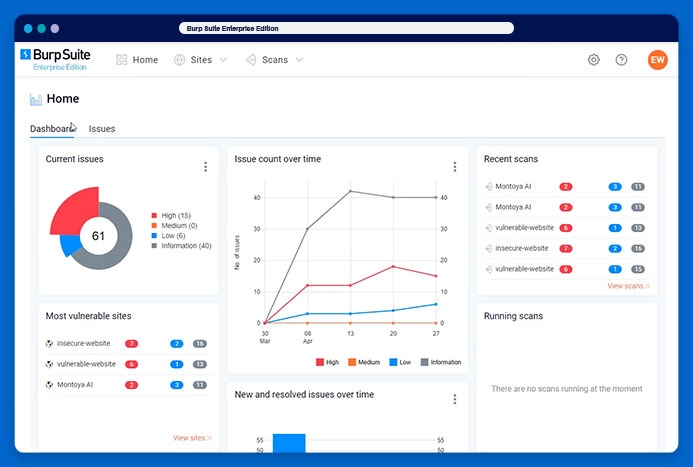 Want to see what Burp Suite Enterprise Edition has to offer?
No email capture, no login details - simply click the button below to enter:
In order to improve ongoing user experience, we have applied web-based tracking to this environment. The tracking is unique to this environment and does not appear in any other PortSwigger or Burp Suite products. Burp Suite products do not track identifiable user data.
See features in action like:
Home, folder, and site level dashboards.

Scan results pages - including issues lists, scanned URLs (list or tree views), charts including issue counts by severity, ten-day severity trends, and most serious vulnerabilities.

Summary and detailed scan reports and scan event logs - available to view in-browser and download.

Home, folder, and site level issues lists.

Scan configurations.
Due to the web-based hosting of this live demo, we're only showcasing the core functionality of the product here. To experience all of Burp Suite Enterprise Edition, including reconfigurable scans, email and Jira connectivity, single sign-on (SSO), role-based access control (RBAC), and more, start your fully-featured trial today.