Home Secretary Amber Rudd plans to take down criminals exploiting anonymity online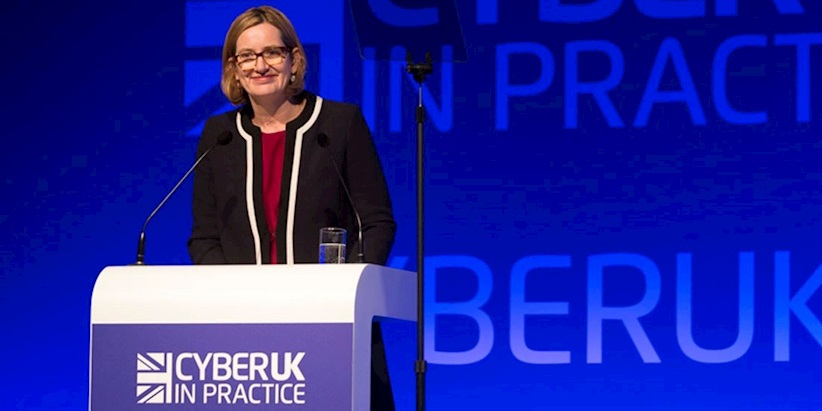 The British government took a hardline stance on the dark web yesterday, pledging a £9 million investment to tackle criminal activity found in the sinister corners of the internet.
Home Secretary Amber Rudd made the announcement on day two of the annual NCSC CyberUK conference in Manchester, where government, industry and law enforcement have gathered to highlight Britain's commitment to the digital age and solidify the nation's proactive position in the fight against cybercrime.
"We must be in no doubt that the cyber sphere is where modern day crime is committed, and international conflicts are played out," said Rudd.
"And we know that cybercrime comes in different guises," she added.
"It's perpetrated by ruthless organized crime gangs, who conduct hacking and phishing on an industrial scale and target intellectual property, it's sophisticated scams that can bring down businesses, or wipe out life savings with the proceeds laundered at a touch of a button."
A total £50 million investment will be launched to improve the cyber capabilities of law enforcement on national, regional and local levels, Rudd said.
This comes as fraud and computer misuse offences in England and Wales account for nearly half of criminal acts, according to the latest records from the Office for National Statistics.
A recent survey from the Department for Digital, Culture, Media & Sport (DCMS), also details how approximately half of businesses operating in the UK have experienced a cyber breach or attack in the past 12 months.
The continued funding is part of a previous £1.9 billion five-year cybercrime prevention scheme instigated in 2016 with the UK's National Cyber Security Strategy. More, however, still needs to be done in order to keep up with the increasingly sophisticated attacks taking place on British soil.
"Currently only 30% of local police forces have a cyber capability that reaches the minimal standard, and as crime changes, policing needs to change too," said Rudd.
The Home Secretary explained how the new funding would help see the implementation of a national training program for police officers and provide them with the tools needed to investigate and prosecute cases of cybercrime.
She added: "Measuring cyber offensives is a recently new phenomenon, and the more that we can gather from these types of crimes the better."
A further £3 million in funding is set to be allocated for cybercrime awareness – a continuation of the bipartisan Cyber Aware campaign, which began in 2014.
Most of Rudd's focus, however, signalled in on the dark web – an area of the internet designed to preserve the anonymity of both users and websites.
"There are sites that live stream child abuse to order, space for terrorists to plot and share their murderous expertise, and the option of ordering drugs to doorsteps," said Rudd.
"A sickening shocking list of services and products are available. You can buy half a kilogram of fentanyl, the drug responsible for over 20,000 overdoses deaths in the US in the last year alone, for around £5 a gram.
"Alternatively, you can get a semi-automatic pistol for less than the price of a second-hand car, and for both, you can pay in bitcoin."
Rudd praised by the NCSC for "proven strong personal commitment to cybersecurity in the UK" following the WannaCry ransomware attack last year.
She said funding would build on current investigative work by the intelligence agencies and the National Crime Agency's (NCA) dark web intelligence unit.
Past investigations into criminal activity on the dark web have led to the conviction of paedophile Matthew Falder, who was jailed for 32 years earlier this year after admitting 137 charges of child abuse.
"It's vitally important that we have the ability to tackle more cases like this in the future," said Rudd.
Websites found on the dark web can only be accessed through Tor – a software that enables anonymity, used by criminals, but also journalists, dissidents and activists.
Rudd, while praising the benefits of technological advancement, did not mention the advantages that anonymity can bring to those whose safety is dependent on not being found.
"This strategy includes calling out those states and publically attributing their actions where we believe it is in the best interest of the UK to do so," said Rudd.
"We will not shy away from taking the tough decisions that are necessary to keep us all safe.
"And that includes the dark web, where anonymity emboldens people to break the law in the most horrifying ways, with platforms that enable dangerous crimes and appalling abuse."