Top infosec trends in the social media spotlight this week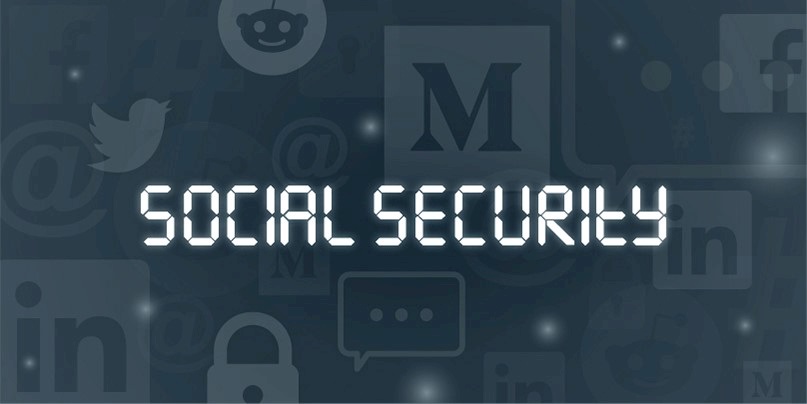 A ransomware attack that crippled the IT systems of aluminum and renewable energy company Norsk Hydro dominated the security news headlines late last month.
With recovery efforts now well underway, the Norwegian company this week released a short YouTube video featuring on-the-ground footage and interviews with various staff members on the front line of the manufacturer's incident response.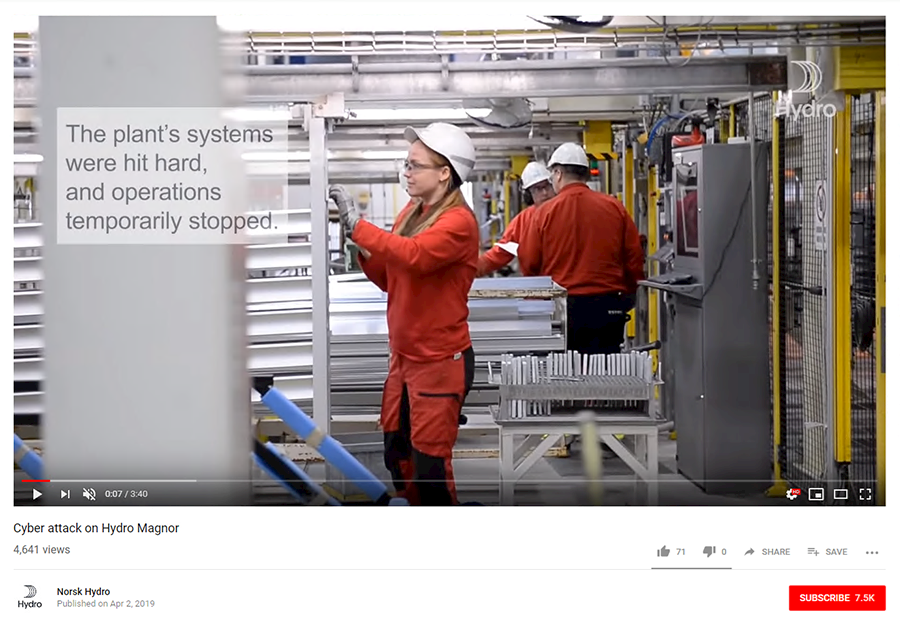 "The magnor extrusion plant in Norway was one of the 160 Hydro sites hit by the cyber-attack," reads the video description. "Meet the heroes who stepped up when it mattered the most."
Following the ransomware incident on March 19, British security specialist Kevin Beaumont has been keeping a close eye on Norsk Hydro's recovery efforts.
Beaumont had previously said that the manufacturer's actions may serve to become a "textbook example of how incident response should be done". The release of the documentary, he said, gave further cause for praise: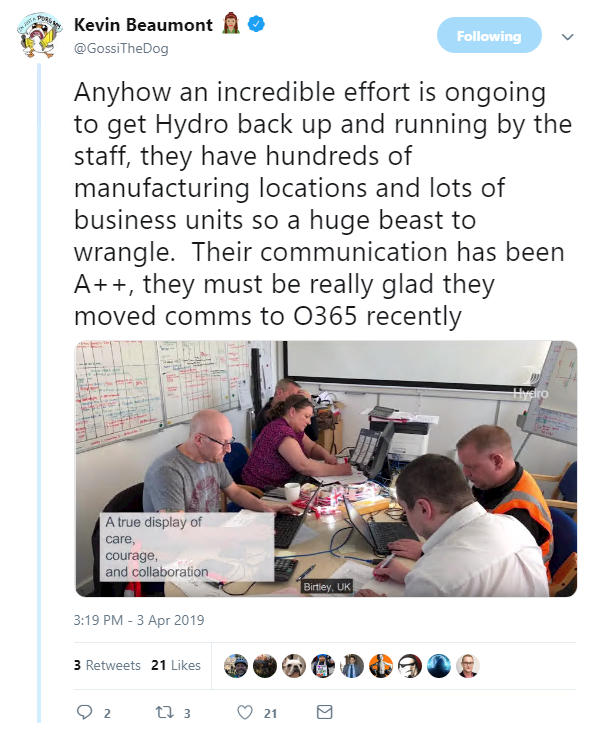 Elsewhere, a coordinated effort from law enforcement in Europe, Canada, and the US has resulted in the closure of 50 dark web accounts linked to illegal activity.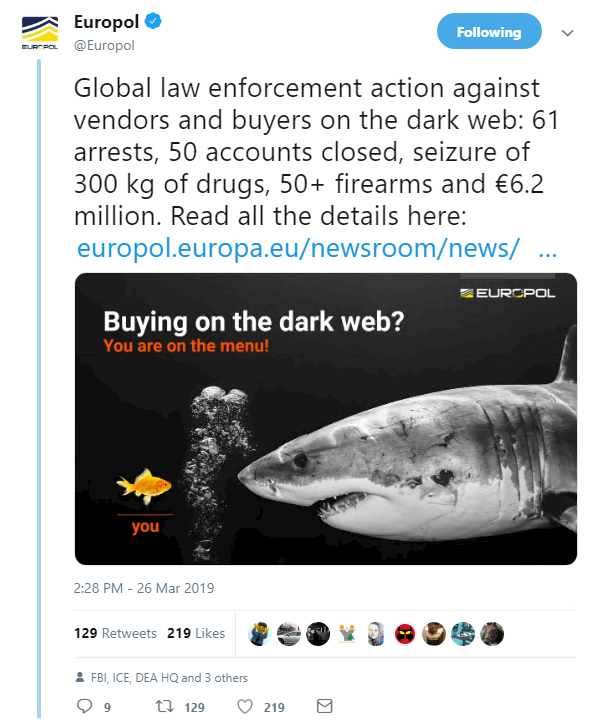 As news of Operation SaboTor started to spread, admins at Dream Market – the largest darknet drugs bazaar – announced they would cut their losses and shift operations to a "partner company".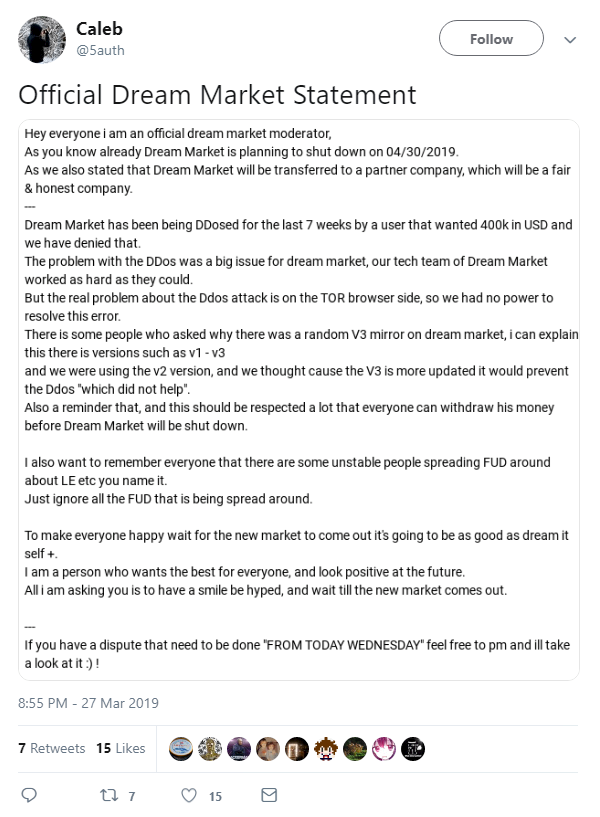 In social media news, Linux mastermind Linus Torvalds spoke with Red Hat founder Bob Young in a candid interview to celebrate the 25th anniversary edition of Linux Journal.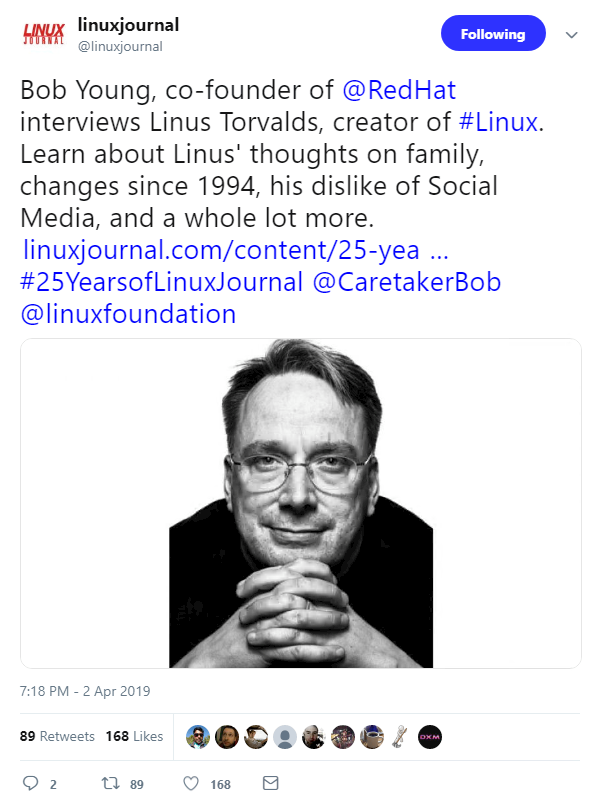 In a wide-ranging discussion, Torvalds slung brickbats at Twitter, Facebook, Instagram, et al, calling modern-day social media "a disease" that encourages "bad behavior".
"I think part of it is something that email shares too, and that I've said before: 'On the internet, nobody can hear you being subtle'," Torvalds said.
"When you're not talking to somebody face to face, and you miss all the normal social cues, it's easy to miss humor and sarcasm, but it's also very easy to overlook the reaction of the recipient, so you get things like flame wars, etc., that might not happen as easily with face-to-face interaction."
The full interview is well worth a read. Of course, many within tech circles will be well aware that Torvalds himself has been prone to some not-so-subtle outbursts online in the past, so perhaps his latest comments signal mark the start for a period of reflection and the birth of a more relaxed kernel creator.
And finally, millions of people around the world are waiting with bated breath for the start of the final season of Game of Thrones next weekend.
Over the years, the small screen adaptation of George R.R. Martin's fantasy saga has become notorious for not only killing off characters faster than you can say Dracarys, it was also recently revealed to be the most pirated series of all time.
Before Season Eight commences on April 15, Blackwatch fans who had been hoping to watch the season via illegal download may want to think twice, as Kaspersky Lab presented new research that once again puts Game of Thrones on the malware top spot.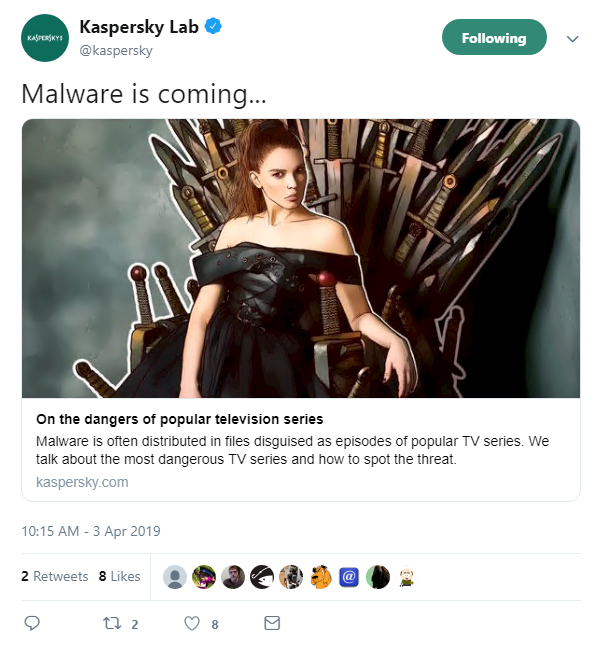 "According to our statistics, Game of Thrones-related malware species that attacked users in 2018 numbered almost 10,000 – or 9,986 to be exact," the cybersecurity firm said this week.
"These malicious programs attempted to infect the users' machines more than 120,000 times. That is just the year 2018, and the statistics are limited to users of our solutions, so the total number of attacks worldwide should be far larger."