'The way that you're going to be able to hire effective new students is by how they handle these real-world scenarios'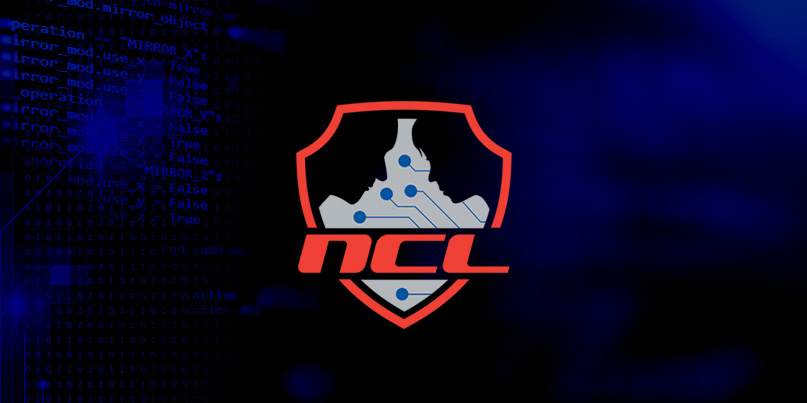 The National Cyber League (NCL), a biannual cybersecurity competition, has opened its fall season with a bang.
Running from October through to December, the National Cyber League (NCL) is a capture the flag (CTF) style event that aims to teach cybersecurity skills through a series of competitions.
Participants are predominately students studying security-related courses at US colleges and universities, although a growing number of high schools are also taking part.
The league, which runs for two seasons each spring and fall, currently boasts 10,000 players from up to 400 different schools – but the benefits of the event are felt year-round.
"We really build a community around the sport, around the game," Dan Manson, commissioner of the NCL, told The Daily Swig.
"It's not an individual just playing by themselves – it's a league and a season."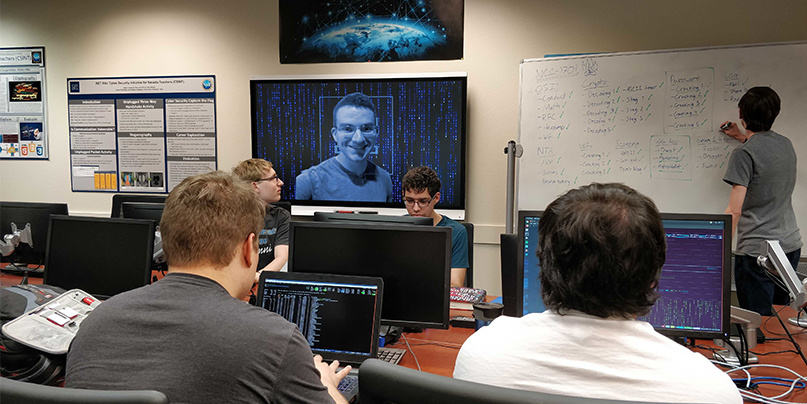 The University of Nevada, Reno took away the title of top school in the NCL 2019 Spring Season
Real-world scenarios
Manson helped start the NCL as a non-profit in 2011, hoping to develop the games as an extracurricular learning tool for those studying, or simply interested in a cybersecurity career.
Participants are faced with real-world scenarios in order to improve their knowledge of everything from open source intelligence and password cracking, to log analysis and web application security.
The gamification of these learning areas creates enthusiasm and passion for further skills development, fueled by both team and individual aspects to prepare players for the workforce.
RELATED Growing the cybersecurity workforce: (ISC)² releases annual report on bridging the skills gap
"One of the things that's really lacking [in cybersecurity education] is the ability to deal with uncertainty," Manson said.
"There are too many ways for people to learn memorization, textbook, it's fairly structured.
"What we give the players is much more real world," he added.
Remote participation
Both the fall and spring programs are broken down into distinct parts across a three-month period: Gymnasium, Preseason, Individual Game, and Team Game.
All participation is done remotely, which provides an opportunity for underserved communities to get involved without having to pay hefty university tuition fees.
The various types of challenges fall in line with learning requirements under internationally recognized cybersecurity certifications, CompTIA Security+ and the EC-Council Certified Ethical Hacker.
This enables players like Kait Bestenheider to put NCL gained experience on a resume – and even highlight this participation in a job interview.
"I did speak about my NCL experience during the interview [for my current job] but I always found a way to work it into every interview," said Bestenheider, who played her first NCL season in 2015 and has been working with the information security company Tevora since 2018.
"I saw it as my most important asset."
READ MORE School's out: Meet the teen hackers swapping books for bugs
Bestenheider, who entered the games as a cybersecurity novice, is now an NCL player ambassador, regularly coaching others to build the infosec community of the future.
"In the wild, perfect systems do not exist," Bestenheider explained.
"You have to be flexible, you have to adapt, and the NCL helps you do that.
"I think that's way more valuable than anything in the classroom," she added.
Cyber Sky thinking
In 2015, the NCL partnered with the cloud platform Cyber Skyline in order to create more links to industry and provide its players with easier pathways to recruitment.
Franz Payer is one of the company's co-founders.
"One of the challenges with cyber competitions is that you just get a score, and it's hard to understand what that score means," Payer told The Daily Swig.
"We try to bring more analytics to the competition so that the person can understand how they rank across the categories – cybersecurity is such a large and broad field."
Room is left for weaving in challenges that reflect current industry trends such as ransomware, Payer said.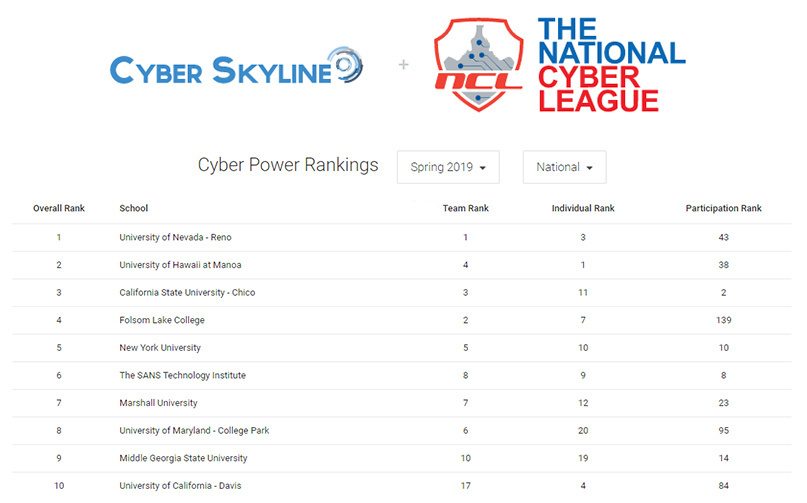 The NCL Spring 2019 Season leaderboard
Learning competitions such as the NCL come at a time when the cybersecurity industry continues to battle with an ever-growing skills gap – the latest report from (ISC)² putting the amount of needed workers at 4.07 million across the globe.
"I think that employers are starting to realize that hiring based solely on past experience doesn't, necessarily, work out because there aren't enough of those people to hire," Payer said.
"The way that you're going to be able to hire effective new students is by how they handle these real-world scenarios.
"This is a big trend that we're going to see," he added.
Last month, the University of Nevada, Reno took away the title of top school competing in the NCL's 2019 Spring Season.
The National Cyber League's 2019 Fall Season runs until December 14. According to Payer, the majority of the NCL funding is made through the competition's registration fees.
Performance of participating schools can be found through the Cyber Skyline Power Rankings.

YOU MAY ALSO LIKE Esports gaming skills pave the way for cybersecurity careers