Tesla, Microsoft, and others targeted in hacking competition that saw Star Labs crowned 'Masters of Pwn'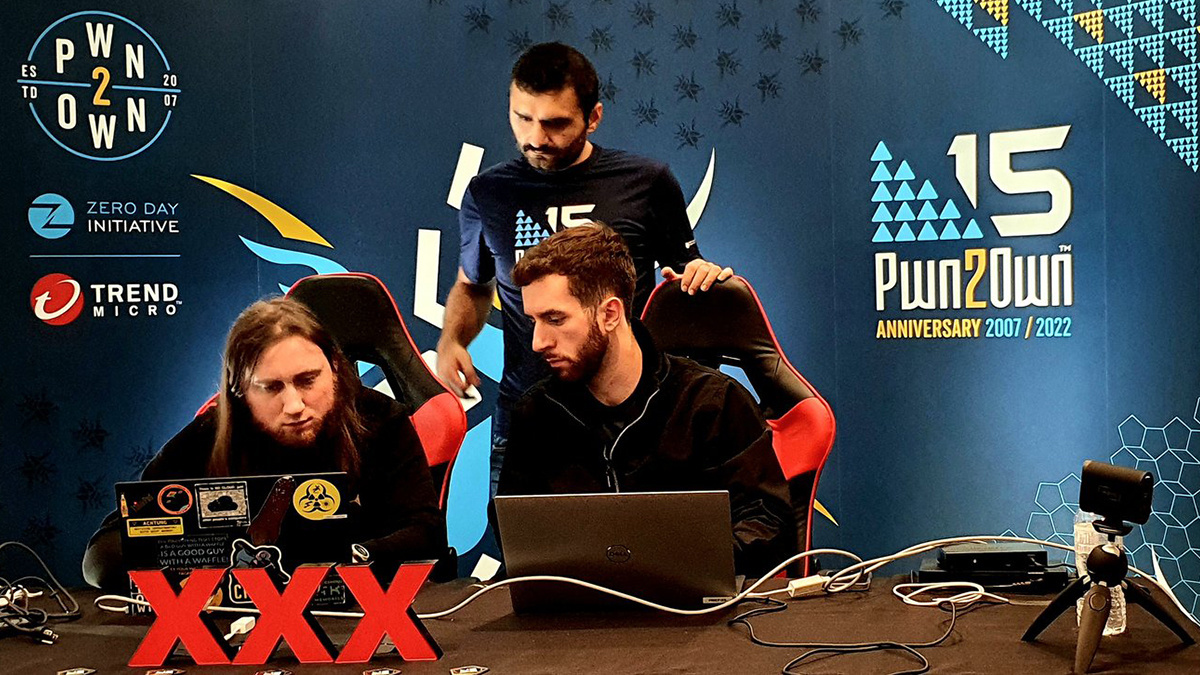 Pwn2Own Vancouver closed its doors on Friday (May 20), with more than $1 million being awarded to celebrate 15 years of the annual hacking event.
Held by Trend Micro's Zero Day Initiative (ZDI), the contest saw hackers from across the world compete both in person and virtually to find bugs in products from a wide range of vendors, including Microsoft, Mozilla, and Apple's Safari browser.
Participants were offered the opportunity to earn both money and points, which would go towards being crowned 'Master of Pwn'.
A team from Star Labs in Singapore, who were taking part virtually, were crowned this year's champions with a total of 27 points.
Read more of the latest hacking news
Overall, prize payouts amounting to $1.2 million were awarded for the 27 vulnerabilities that were discovered during the event, which was celebrating its 15th year.
Sponsors including Tesla and VMWare also provided targets for the competition, with David Berard and Vincent Dehors from Synacktiv discovering two unique bugs leading to a sandbox escape on the Telsa Model 3 Infotainment System.
"The Synacktiv team was able to remotely take over the infotainment system, and they showed how they could stand outside the car and turn on the wipers, open the trunk, and flash the lights," Dustin Childs, senior communications manager at Trend Micro's ZDI, told The Daily Swig.
He added: "The attempt that failed still demonstrated some interesting research, and we were pleased to acquire through a standard program submission."
DON'T MISS Pwn2Own Miami: Hackers earn $400,000 by cracking ICS platforms
Other notable discoveries include the zero-click exploit of two bugs, injection and arbitrary file write, on Microsoft Teams found by Daniel Lim Wee Soong, Poh Jia Hao, Li Jiantao, and Ngo Wei Lin of Star Labs, which earned the team $150,000, and an improper configuration against Microsoft Teams found by Hector "p3rr0" Peralta, also worth $150,000.
Childs said: "We've had an exciting event with more than $1,000,000 awarded to the contestants. With so many attempts in the category, we expected several bug collisions, but that hasn't been the case. Almost everything demonstrated was unique and qualified for the maximum payout.
"It was interesting the see the variety of Microsoft Teams exploits demonstrated. We had three successful entries, and they were all different.
"The most interested – and most dangerous – was a zero-click entry that could be used to take over an entire organization. That's one of the reasons we have this contest – to see the latest in exploit techniques and help get the patched before they are exploited in the wild.
"It's been great to see the evolution of the program over the years. We've gone from a small, browser-focused event to awarded more than $1,000,000 two years in a row. We celebrated or 15th anniversary this year and can't wait to see where the contest grows from here."
Read about all of the entries and subsequent payouts via a blog post from ZDI.
YOU MAY ALSO LIKE Cybersecurity conferences 2022: A rundown of online, in person, and 'hybrid' events