Coronavirus postpones DEF CON China; Avast caught in the act; and the UK gives the go ahead to Huawei on 5G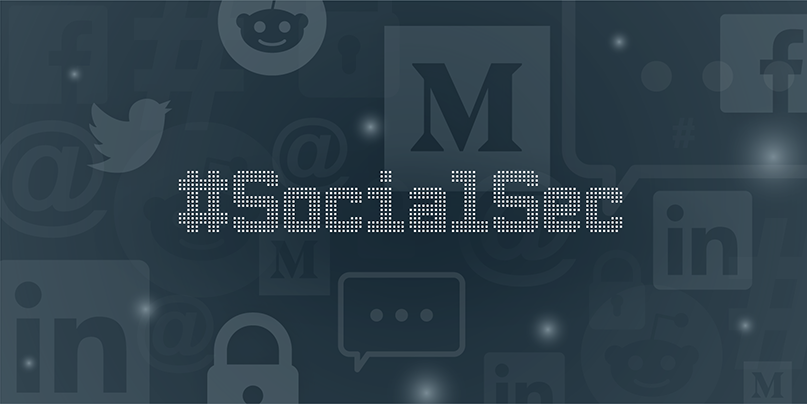 Disappointing news came out of Beijing this week after DEF CON announced that it would be cancelling its annual conference in Asia over coronavirus fears.
The event, initially intended for April, was preparing for its second edition when organizers said on Monday (January 27) that the outbreak of the untreatable virus was throwing a shadow of uncertainty towards its planning.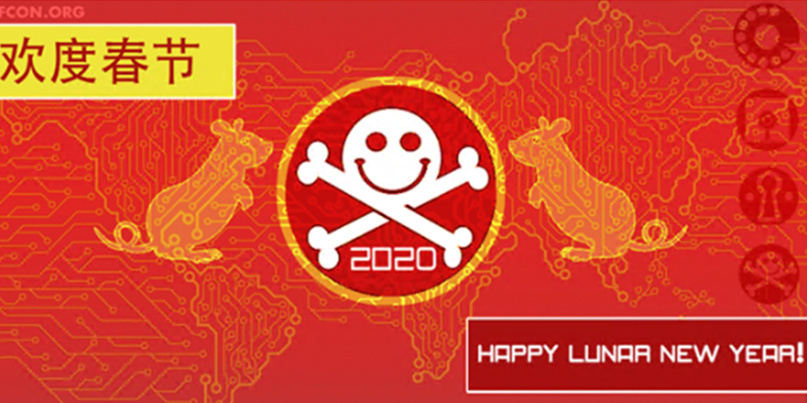 "In light of global precautions being announced to combat the coronavirus outbreak, we've decided to postpone DEF CON China 2.0," the conference said in a statement on its website.
"We regret inconveniencing any of you. Know that we are committed to holding the event once it's safe to do so."
More than 200 people have died from the virus, which began in central China and has now spread throughout the world, prompting the World Health Organization to declare a global health emergency on Thursday.
DEF CON added: "Our hearts go out to our many friends in the affected regions. We encourage everyone to stay safe, and we look forward to reuniting when this is behind us."
Organizers are currently working on finding alternative dates for DEF CON China 2.0.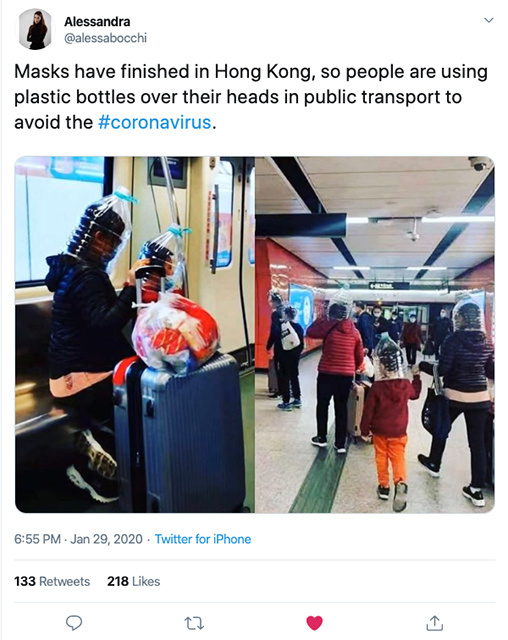 Sticking with viruses, opportunistic cybercriminals have leveraged the chaos sparked by an international epidemic, with some using the coronavirus to deploy Emotet-infected spam emails.
A report by IBM X-Force warns of run of coronavirus-themed scam emails featuring bobby-trapped attachments and targeting Japanese speakers.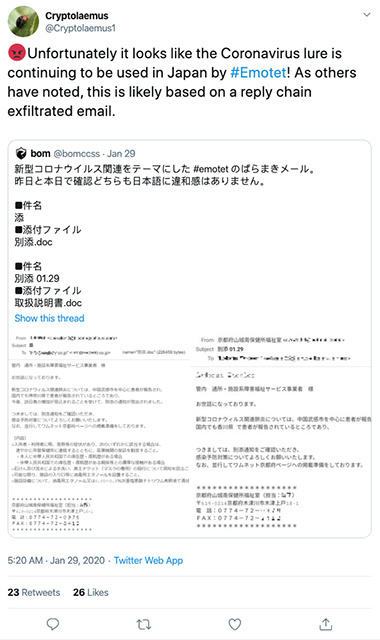 IBM X-Force said: "We expect to see more malicious email traffic based on the coronavirus in the future, as the infection spreads.
"This will probably include other languages too, depending on the impact the coronavirus outbreak has on the native speakers.
It added: "Unfortunately, it is quite common for threat actors to exploit basic human emotions such as fear – especially if a global event has already caused terror and panic."
Long-awaited news out of Britain on Tuesday (January 28) with the decision of the Conservative government to allow Huawei to supply limited parts in building the UK's 5G infrastructure.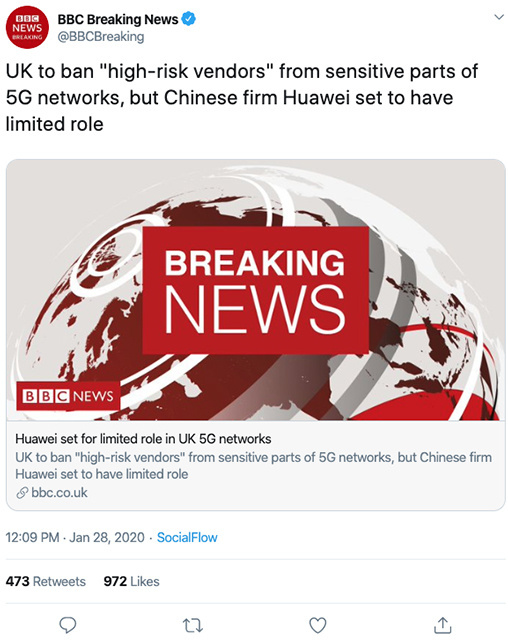 While there was no mention of Huawei by name, there was little question that the stated requirements pointed directly at the Chinese tech firm, who has been accused of supplying equipment that might create a backdoor to state-spying from China.
High risk vendors would be "limited to a minority presence of no more than 35% in the periphery of the [5G] network, known as the access network, which connect devices and equipment to mobile phone masts," the government statement said.
Limits will also include restrictions to supplying equipment to sensitive areas such as those near nuclear facilities or military sites.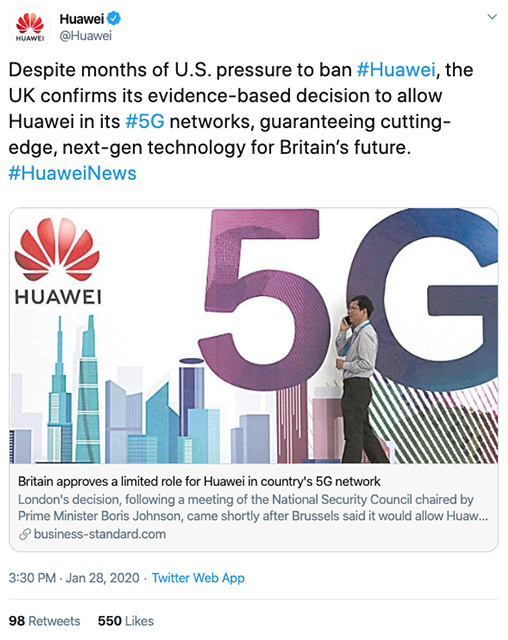 The decision, although one that is disappointing to the Americans and has equally put the UK's 'special' trade relationship at risk of fizzling out, was backed by the National Cyber Security Centre and members of the National Security Council.
It's been a long time coming, as The Daily Swig reported in February.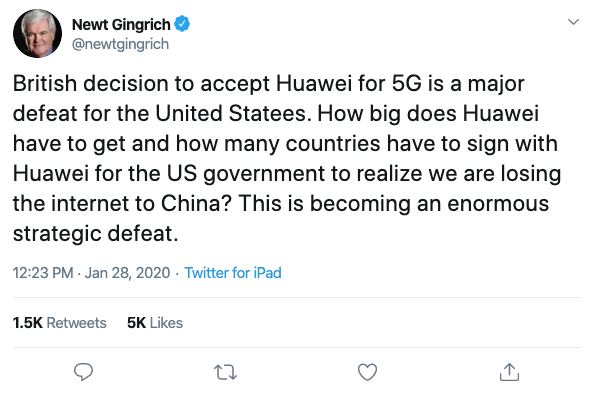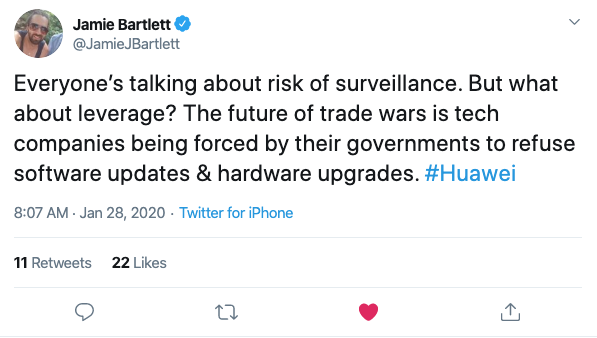 A joint investigation by Motherboard and PC Mag revealed on Monday that an Avast subsidiary was selling user's surfing data with Spoiler Alert: no consent.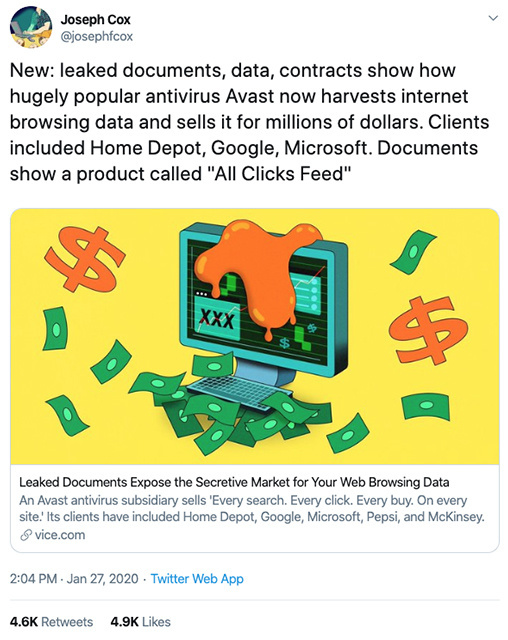 The report found that Avast's popular antivirus program was collecting user data and passing it on to Jumpshot, a business that aggregated the information to sell on to major companies such as Google, Microsoft, and Home Depot.
It's not the first time that Avast has been in hot water for its Big Data practices. The company is winding down Jumpshot as a result.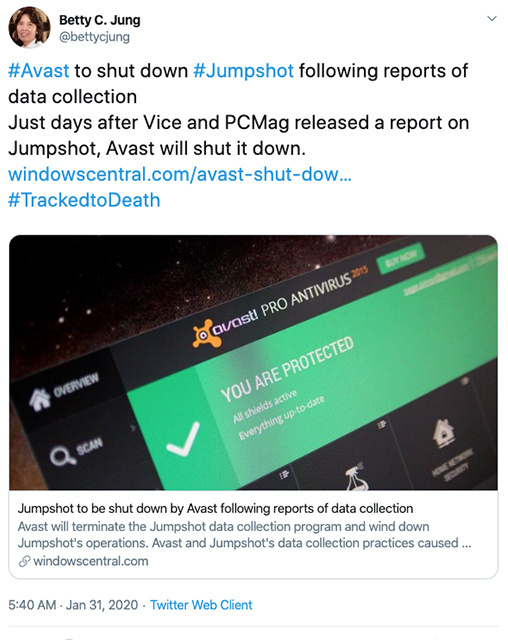 And ahead of the Super Bowl Championship on Sunday (February 2), social media hacks have confounded the two competing teams, the San Francisco 49ers and Kansas City Chiefs, alongside a handful of other official NFL team accounts.
ZDNet reports Saudi hacker group, Our Mine, as claiming responsibility for the defacement and hijacking of the prolific accounts – the same group that hacked Twitter CEO Jack Dorsey in August last year.
"The group said they'd take passwords leaked during data breaches at other services and attempt to use the same passwords to gain access to accounts on other websites," writes Catalin Cimpanu.
"If account owners reused passwords and failed to protect accounts with two-factor authentication, OurMine hackers would hijack and deface an account."