Tech giants unveil the fruits of their rebranding efforts; BlueKeep being exploited in the wild; and new tool offers readymade excuses to breach-hit businesses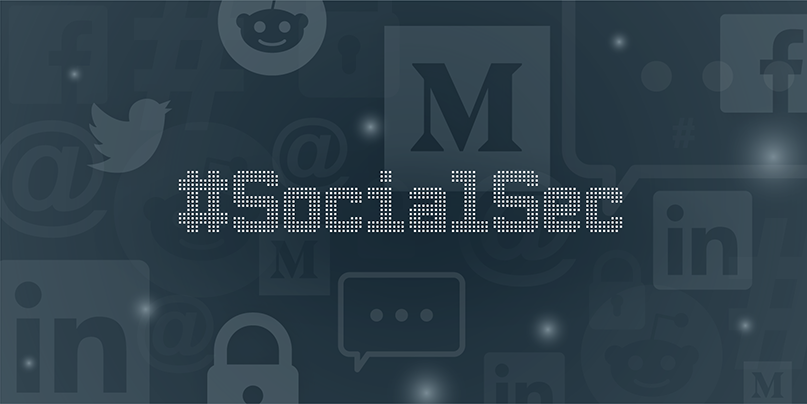 The old Switcharoo
Facebook's perpetual PR problem owes much to perceptions that the company has been somewhat cavalier in its handling of user data.
It's therefore ironic that this week's scandal dates back to a 2012 decision made by the social media giant that was ostensibly to protect its users' privacy.
That justification is now being undermined by details of a 2015 antitrust lawsuit.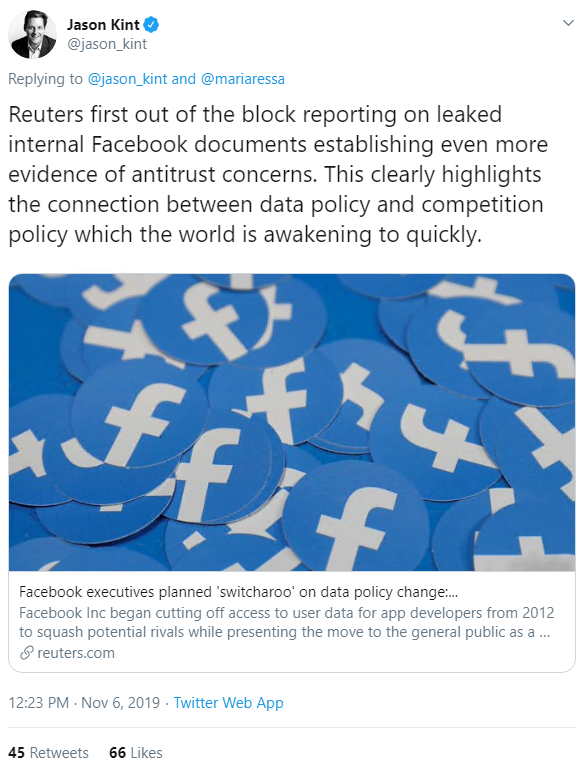 Leaked emails and documents revealed how Facebook executives appeared to frame the social network's decision to limit third-party app developers' access to user data in terms of stifling potential competitors (internally dubbed "the switcharoo plan").
In one leaked email from 2013, it was suggested that the now-defunct Refresh.io could have its access to Facebook APIs and data restricted.
Ime Archibong, vice president of product partnerships at Facebook, concluded the email by saying: "I want to avoid a situation where we let them [Refresh.io] launch, they get traction, and we're forced to grandfather them in when Platform 3.0 lands."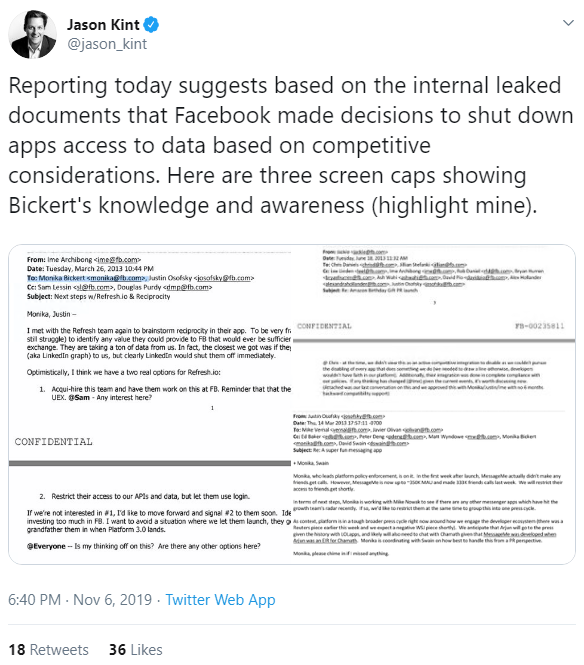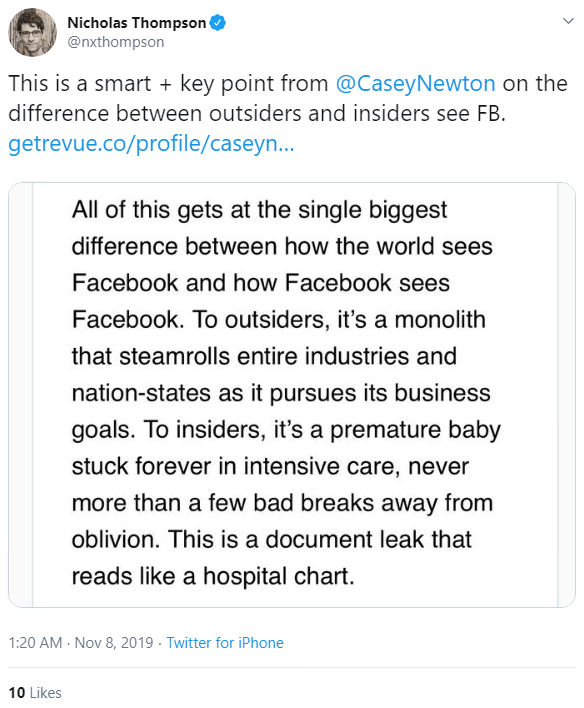 In the context of yet another antitrust controversy, Facebook's all-caps rebrand – to FACEBOOK – was widely mocked as signifying loudness or aggression when reflective repentance was viewed as more appropriate.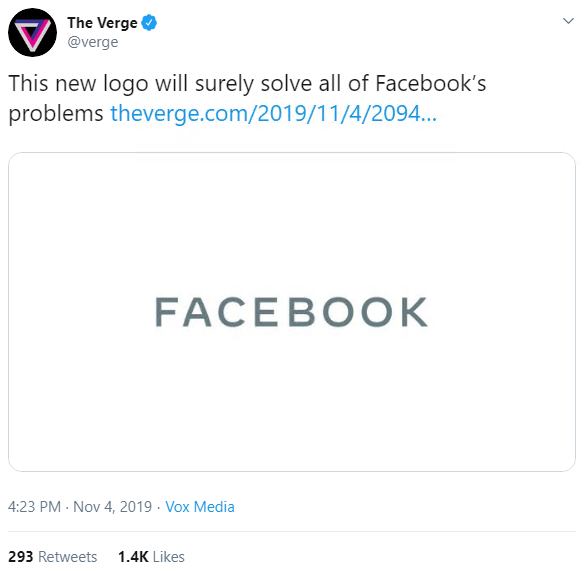 Conde Naste COO Wolfblang Blau sarcastically praised the company, saying "everything looks more assertive in large caps", before juxtaposing tone-deaf and TONE-DEAF."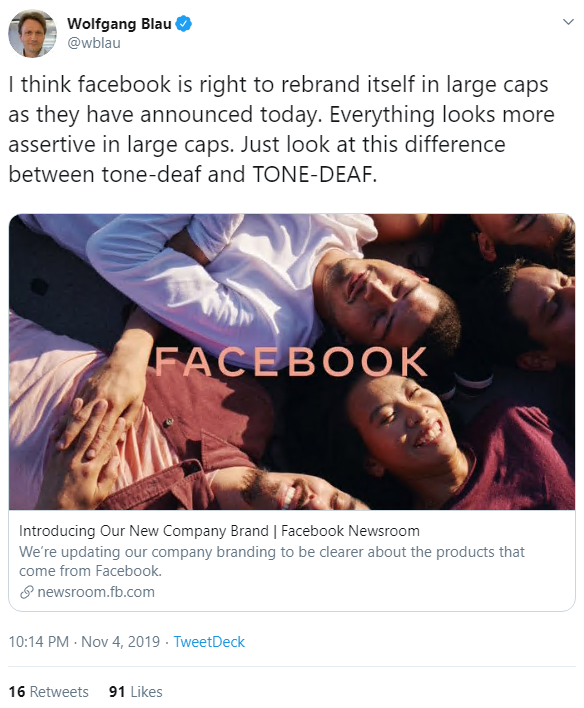 Twitter user Georgia Park riffed that "instead of breaking itself up it has started to scream."
E for Explorer
Rebrands are always a rich source of material for Twitter satirists (and, thus, this column) and so it proved again, as the last vestiges of Internet Explorer were expunged from the new Microsoft Edge logo.
The blue letter 'e' has been ditched in favor of a swirly blue and green design that, some Twitter users noted, bore no more than a passing resemblance to Firefox's own browser logos.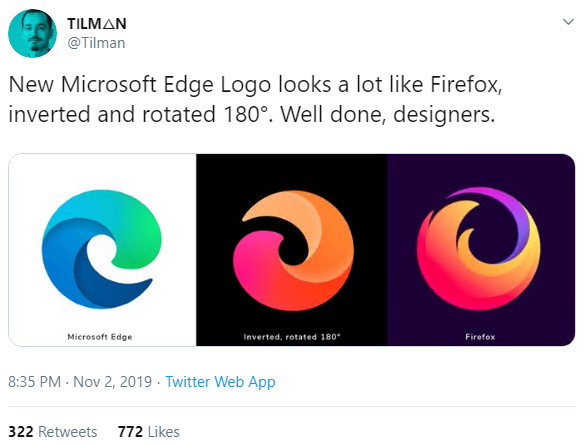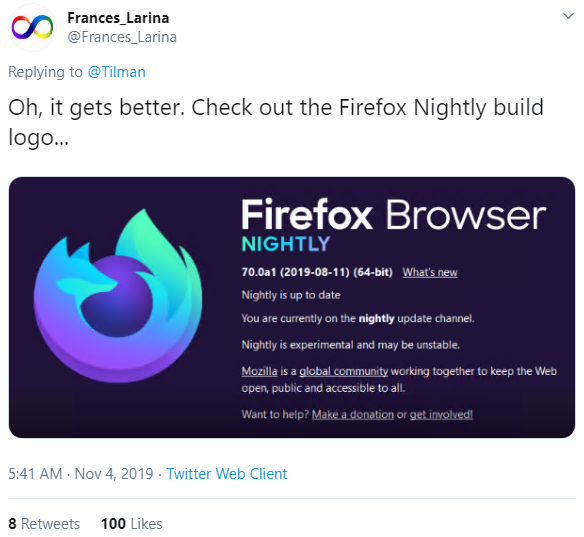 It's reasonable to surmise that a Microsoft rebrand to 'OfficeWindows' would have elicited unparalleled levels of mockery.
Yet that scenario is what Tom Warren, senior editor at The Verge, likened Symantec's new name – NortonLifeLock – to on Twitter.
While brand names invariably shrink – Nike was, for instance, once called Blue Ribbon Sports – Symantec's new moniker, created by new parent company Broadcom, has an extra syllable and six additional letters.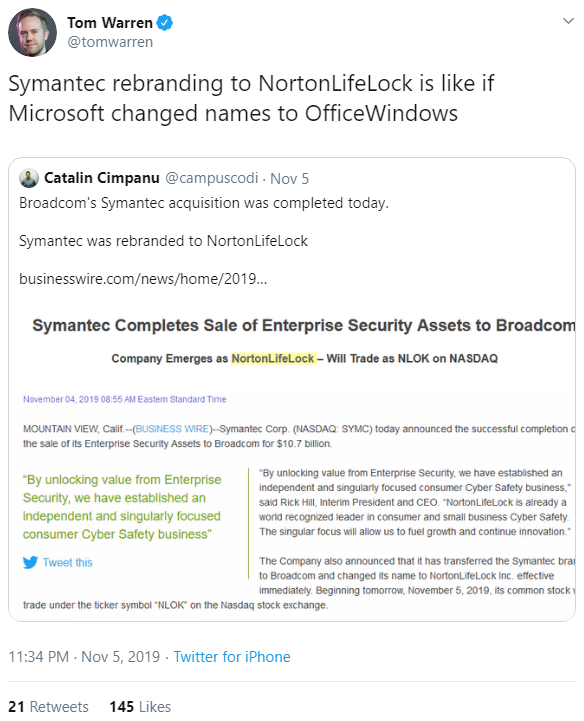 BlueKeep in the wild
Cryptocurrency mining code is being installed on unpatched Windows computers through the notorious BlueKeep vulnerability, a security flaw in Windows Remote Desktop Protocol (RDP), it was reported this week.
All but one of the BlueKeep honeypots set up by British researcher Kevin Beaumont have crashed and rebooted since October 23.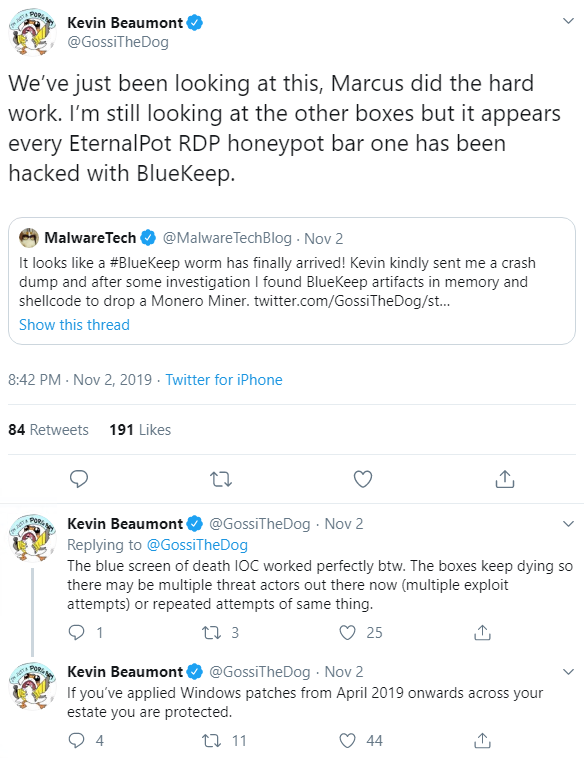 After reviewing a crash dump, researcher Marcus Hutchins said he "found artifacts in memory and shellcode to drop a Monero miner".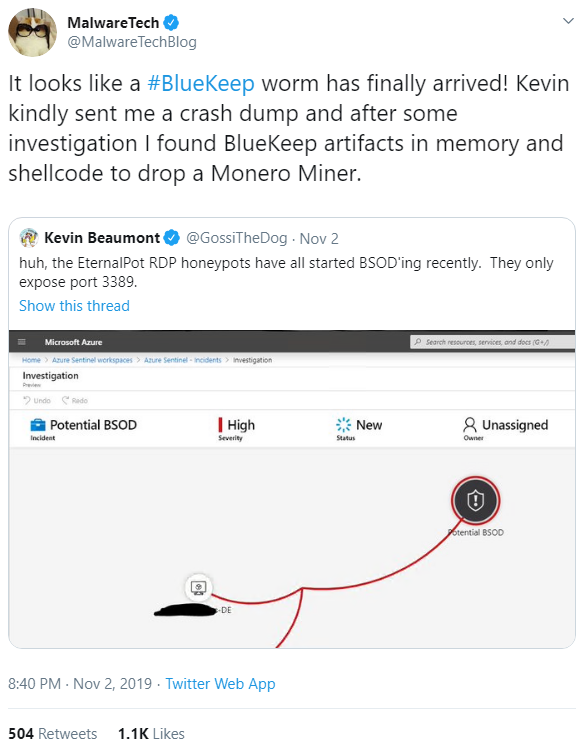 Microsoft Security Intelligence released a blog post based on the researchers' findings.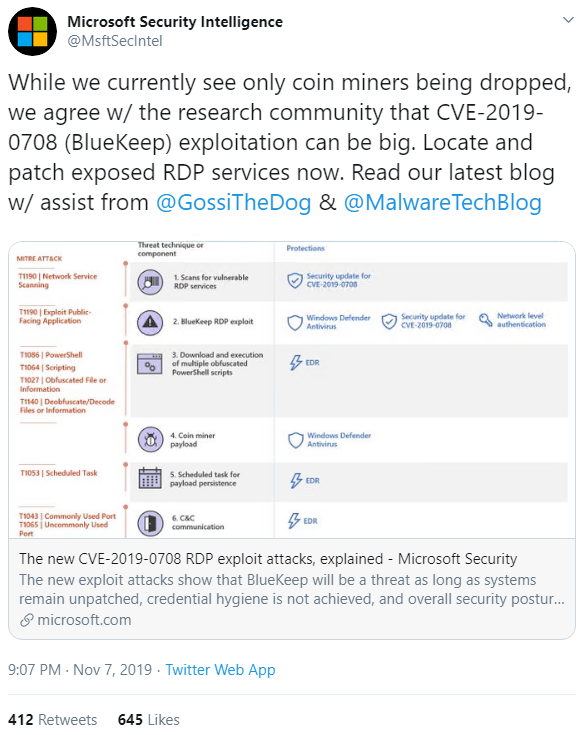 "Security signals and forensic analysis show that the BlueKeep Metasploit module caused crashes in some cases, but we cannot discount enhancements that will likely result in more effective attacks," the company warned.
Court in the act
The infosec community were mostly united in incredulity that two pen testers wound up in court for simply doing their job.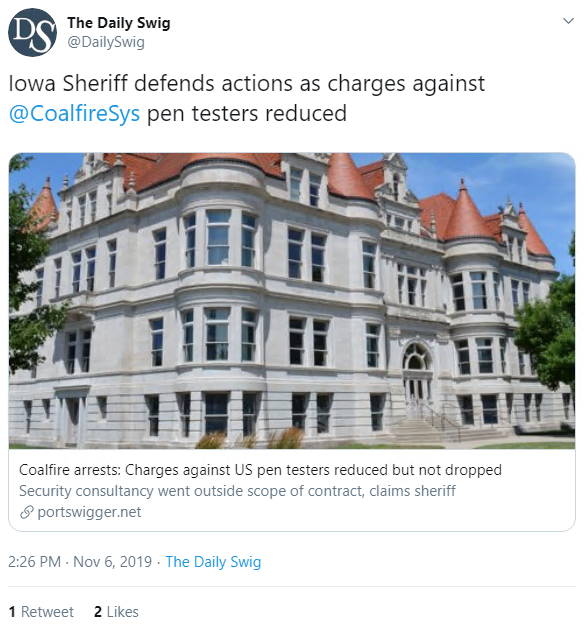 As reported by The Daily Swig, Justin Wynn and Gary DeMercurio of Coalfire had been arrested for breaking into an Iowa courthouse, but had their charges downgraded from burglary to criminal trespass.
The pair seemingly got caught up in a jurisdictional dispute, with Dallas County Iowa Sheriff Chad Leonard claiming that "our courthouses belong to the county not to the state" that hired Coalfire.
Unsurprisingly, most of their peers were willing to #StandWithCoalfire.
However, infosec professional @TinkerSEc, while agreeing that the charges should be dropped, thought Dallas County had "every right to be upset" and that Coalfire management "should have done more to make consistent documentation & verify client authority/jurisdiction".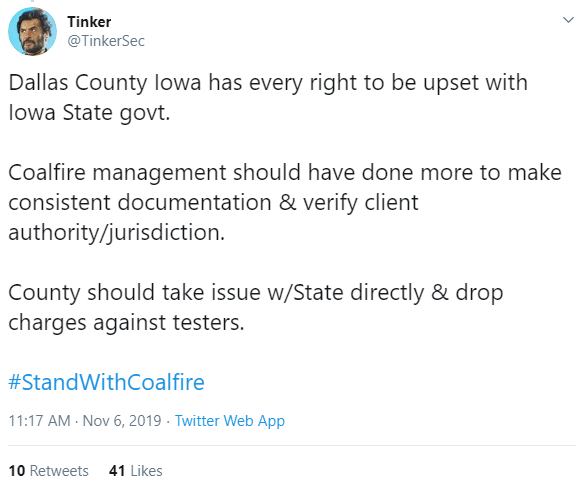 The generation game
And finally, an amusing tool that landed on the internet this week. The "free excuse generator" promises "an air-tight breach statement in no time!"
The 'Why the fuck was I breached?' tool riffs on (reasonable) perceptions that post-breach corporate statements often reek of crowd-pleasing desperation rather than genuine efforts to learn lessons.

One example from the tool: "The fucking NSA used IoT malware to make a mess. But we have since sent one of our guys to DEFCON, so it will never happen again."
Vice said such "we take your privacy seriously" boilerplate responses are the "thoughts and prayers" of cybersecurity.
Referencing perhaps the most badly mishandled breach of all, the button for replacing the response is labelled: "Equifax already used that one".
Kudos to Reflare, the cybersecurity training company behind the tool.