Lyn Ulbricht speaks to The Daily Swig about her son's life in prison and his campaign for clemency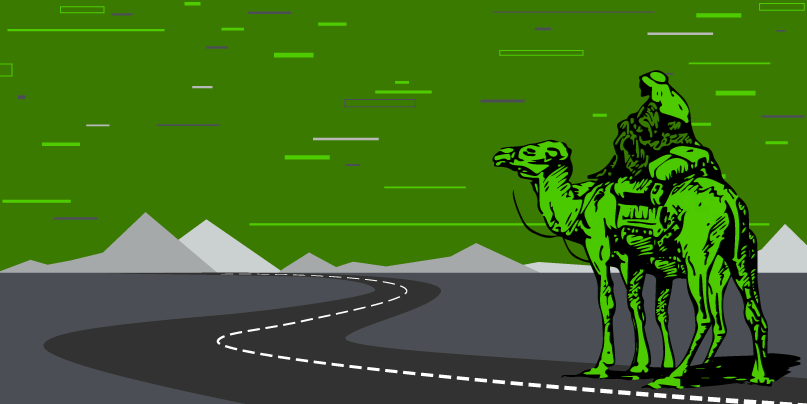 The mother of Silk Road founder Ross Ulbricht has told of her son's fight for freedom, after he was jailed indefinitely for his role in establishing one of the world's most notorious darknet marketplaces.

Ulbricht, now 34, was the creator of the website dubbed 'the Amazon for drugs', which allowed users to buy and sell narcotics and other items (both illegal and legal) online.
The site was hosted on the dark web and boasted privacy and anonymity for both its staff and users – until a two-year FBI investigation cracked open the once-secretive operation.
Ulbricht was apprehended by authorities at a San Francisco public library in October 2013, whilst logged into the administrative section of the Silk Road site.
He was later convicted of money laundering, computer hacking, conspiracy to traffic fraudulent identity documents, and conspiracy to traffic narcotics on the internet.
Ulbricht was sentenced in 2015 for 40 years plus two life sentences with no chance of parole – a ruling dubbed "draconian" by both his supporters and his family.
Pushing for clemency
Since his sentencing, his mother Lyn Ulbricht has campaigned for his release from prison by speaking at conferences and petitioning the courts.
Now she is asking the President of the United States for a commutation of his sentence, following two failed appeals to the Supreme Court.
"He's an amazingly strong person and he keeps a good attitude, almost always," Lyn told The Daily Swig in a telephone interview from her home in Colorado, close to United States Penitentiary Florence High.
"He stays optimistic, he stays positive, and it's intentional – he knows that if he succumbs to bitterness or despair that it's just going to weaken him."
"It was very devastating to have the Supreme Court deny his petition because we really were hopeful," said Lyn.
"But at the same time, now we're out of the judicial for the most part and into the political, and now we're pushing for clemency from the President and that is our goal."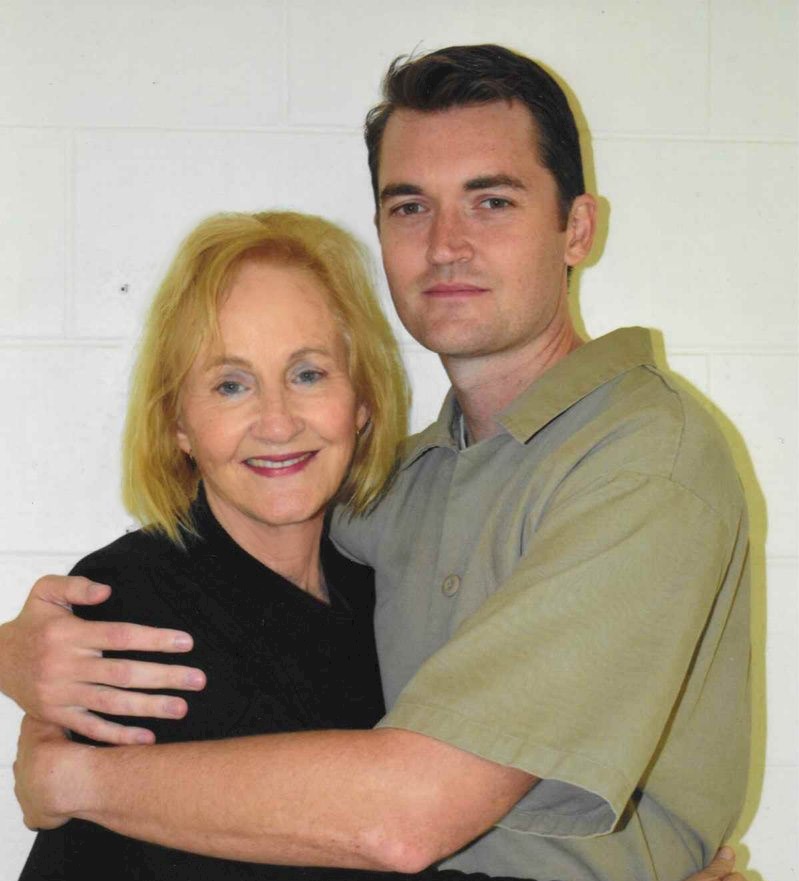 Lyn visits her son in prison
#FreeRoss
A change.org petition, which currently has more than 83,000 signatures, argues that the Silk Road investigation and trial were littered with abuse and corruption.
Two federal police officers were jailed in 2015 for stealing bitcoin from Silk Road accounts during the investigation, when they had full run of the site.
There were accusations that the FBI acted unlawfully by bugging Ulbricht's home without a warrant, and by accessing Silk Road's Icelandic servers without a warrant.
It also claims that there were multiple people operating under the Dread Pirate Roberts alias used to run Silk Road.
Lyn blasted Ross' presiding judge Katherine Forrest for handing him an undoubtedly harsh sentence, particularly as others who were found guilty of committing similar crimes are now walking free.
"The one I think that is most ridiculous is Blake Benthall, because he stayed in custody for only 13 days – he was freed in less than two weeks." Lyn said.
"He was running Silk Road 2.0, which the government itself said was equivalent, it was identical – they called it identical. It sold more drugs than Silk Road, and had more listings.
"I'm not sure why that happened or how that happened, but it's certainly not fair."
Post-Silk Road: A multitude of marketplaces
Lyn Ulbricht's comments come as a report released by Europol last week revealed how law enforcement agencies worldwide are struggling to crack down on darknet marketplaces.
The Internet Organised Crime Threat Assesment (IOCTA) report notes that, in 2017, at least nine major marketplaces were shut down, including AlphaBay and Hansa.
But rather than solving the problem of online drug markets, Europol said these high-profile closures have simply led to the formation and growth of smaller vendors, such as Dream Market, the largest English-speaking platform, which has seen a 20% increase in traffic.
Smaller markets such as Wall Street, TradeRoute, and T-Chka/P-int, grew by 290%, 475%, and 840%, respectively, the agency said.
Those jailed in connection with AlphaBay have included vendors, buyers, and staff. Some, such as drug dealer EtiKing – aka 43-year-old Jeremy Achey – were sentenced to life.
But despite the US government making examples of these perpetrators amid its crackdown on illicit online activity, the demand for dark web marketplaces has failed to waiver.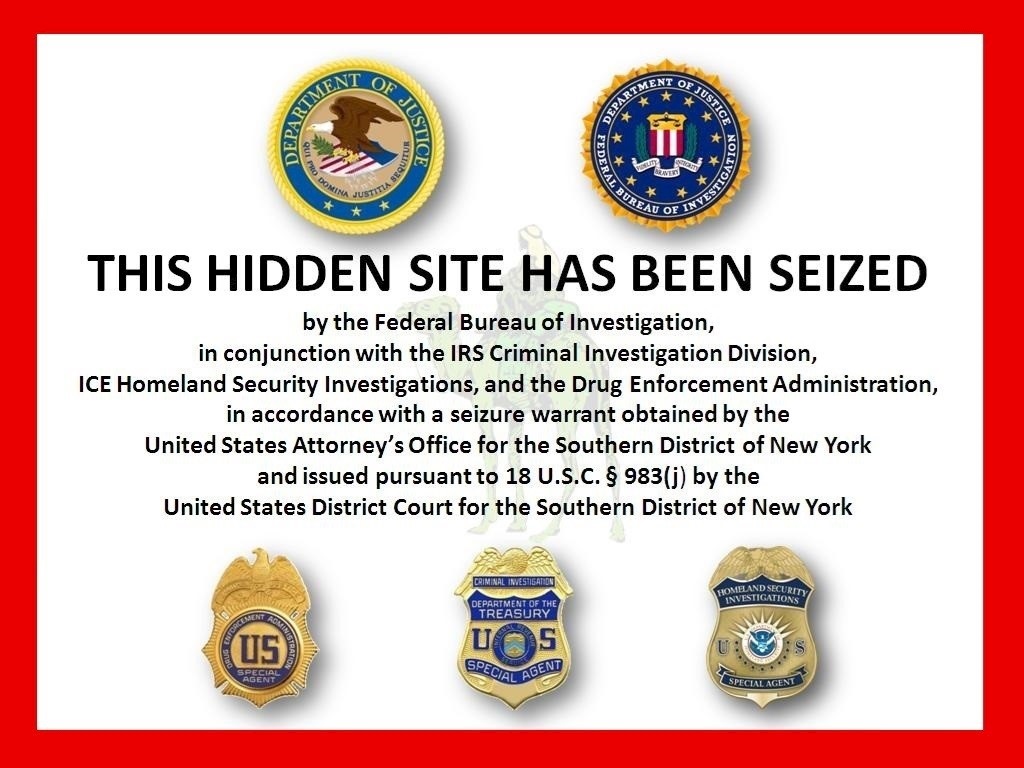 A notice from the FBI appeared on the homepage of Silk Road after it was seized
Changing the narrative
Aside from campaigning for his freedom, Lyn tells how she wants to change the narrative of her son's involvement with Silk Road.
His defense claims that Ulbricht was not the only person masquerading as the site owner – aka 'Dread Pirate Roberts' – and says that, while he did create the website, he later passed it on to another party.
Lyn also wants to clarify the charges of murder-for-hire, which were later dropped and never brought to trial.
"It still poisons everything," she said. "It was never proven."
Ulbricht was indicted with murder-for-hire after the FBI alleged that he paid an undercover police officer to assassinate one of Silk Road's administrators.
The unfounded charges have also been a key focus of countless articles and books such as Nick Bilton's American Kingpin.
Lyn admitted she hasn't read the whole book, but said she thought the title "sensationalized" her son's case.
"I have bigger fish to fry [than Bilton]," she said. "At the time we were dealing with a Supreme Court petition, I couldn't put my energy into that. I just didn't have the emotional reserve and the energy to go into a debate about a book."
Indeed, her energy right now is spent on trying to convince President Trump to grant clemency for Ross – as he did earlier this month when drug trafficker Alice Marie Johnson was freed 21 years into a life sentence without parole.
Ross tweeted about Johnson's release, saying that the incident gave him "hope".
He wrote: "I'm so happy for her. You've given many of us still on the inside hope that there is some compassion and mercy out there for us."
Created in June this year, Ulbricht's Twitter account gives a glimpse into his life in prison, where he discusses his day-to-day activities – meditation, visits, and exercise – via phone calls, which are later transcribed by a friend into 280 characters.
He also discusses topics such as his sentencing, mental health, and criminal justice reform in the US.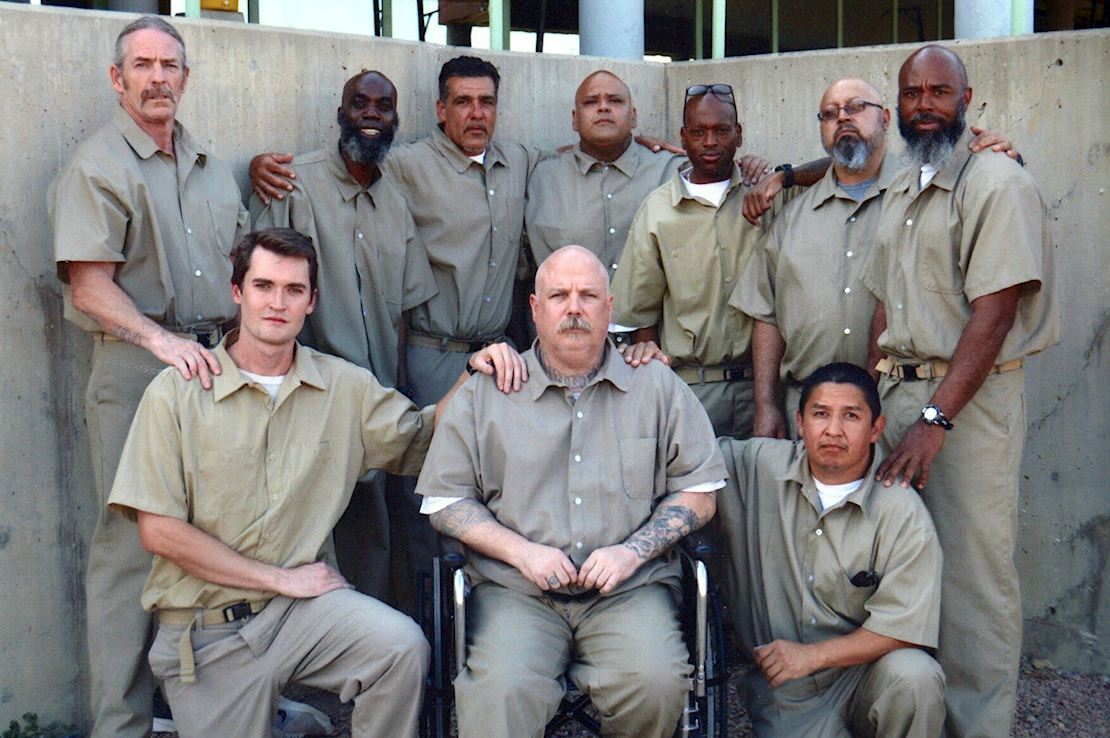 Ulbricht and other inmates at USP Florence High, all of whom are serving life sentences for nonviolent drug offenses
'We're at a tipping point in history'
Only time will tell whether clemency – Ulbricht's final option – will see him walk free from jail.
But if it is granted, will his family continue to fight for freedom and privacy? Ideals which Ulbricht, a libertarian, believed so strongly that it saw him jailed.
"Yes, absolutely. I mean, I'll probably take a vacation first," laughs Lyn. "But, yeah, it's become a bigger issue and certainly privacy and digital rights are a huge part of it.
"I feel we're at a tipping point in history going into the digital age. Things are changing so quickly and the laws, at least in the US, are not keeping up.
"They're trying to apply old laws to this new world and it doesn't fit, and in the process, they're shredding our constitutional protections.
"I don't see how we can live a free life if it's not a private life. If you have the government surveilling you, it's not a free life."
Lyn added: "One of the questions asked in our Supreme Court petition was about the Fourth Amendment, which is: should the government be able to delve into all of our internet browsing history without a warrant, secretly without any oversight, and use it however they wish with no constraints?
"It was denied, which means the Supreme Court is saying, for now, yes they can.
"It's our private information, it's our political affiliation, it's our religion, our sexual orientation, the apps we use, our medical records.
"All these things are accessible through our internet browsing and history and the government has free access to it."
Lyn added: "I think it definitely is time for people to really push back because it may be too late if we don't."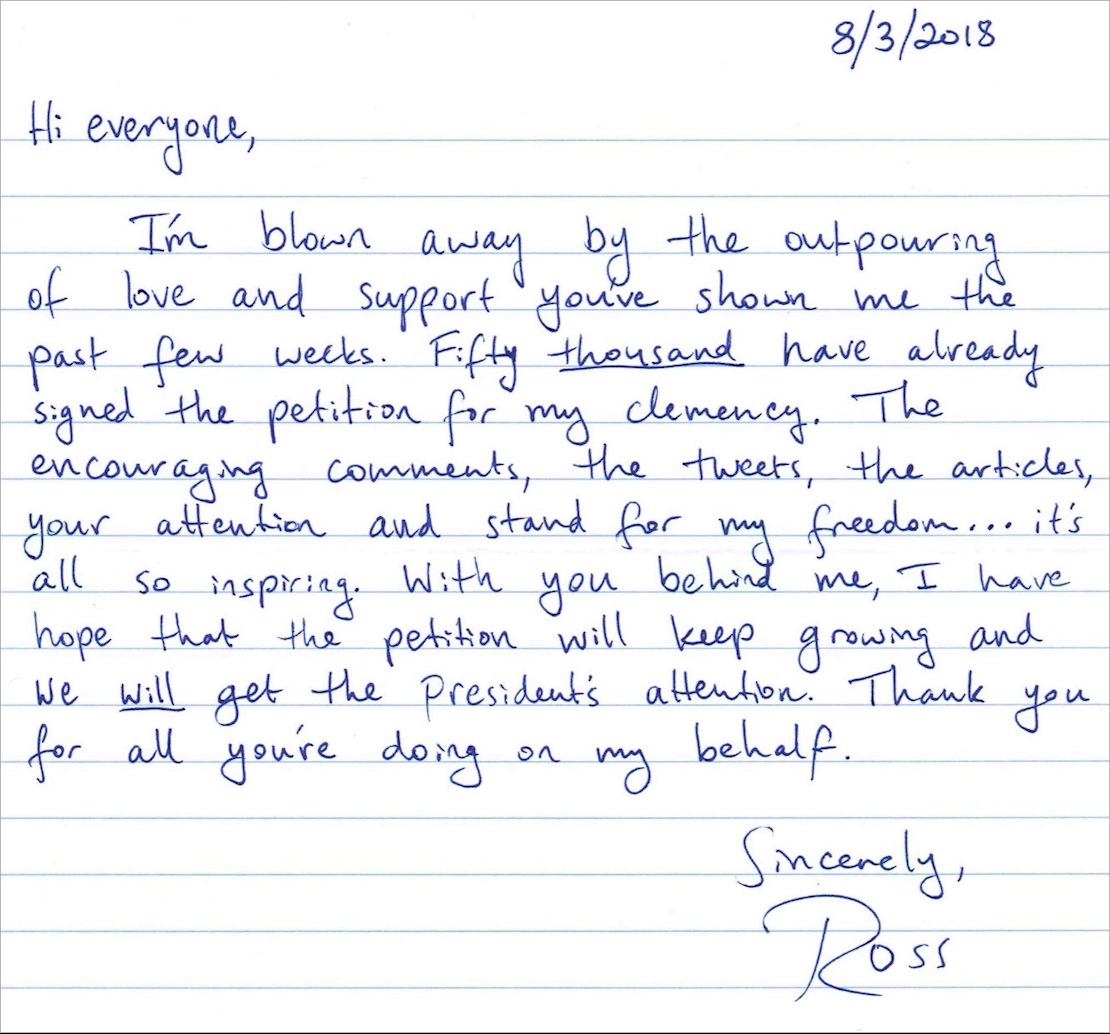 A letter from Ulbricht to his Twitter followers
Does the sentence outweigh the crime?
On September 10, Ulbricht tweeted: "Some people ask what I plan on doing when I get out someday. The first thing that comes to mind is a quiet, peaceful life by the beach where I can start a family.
"Beyond that, I have a few ideas about how to contribute through entrepreneurship and #CJReform activism."
In the time it has taken to write this piece, more than 300 more people have signed the petition to free Ulbricht.
And reading through the comments posted on the page, many of his supporters are united in one view.
There's no denying that crimes have been committed. But to rob a young man of his entire life for non-violent charges is, in their words, unjust.
"Sometimes I reflect on my life before prison," Ross wrote last month. "All the little things I used to take for granted and the little problems I used to have. It would take a lot to upset or overwhelm me after all this.
"If I can make it through this, I feel like I can make it through anything."