WEF report warns of long-term cybersecurity risk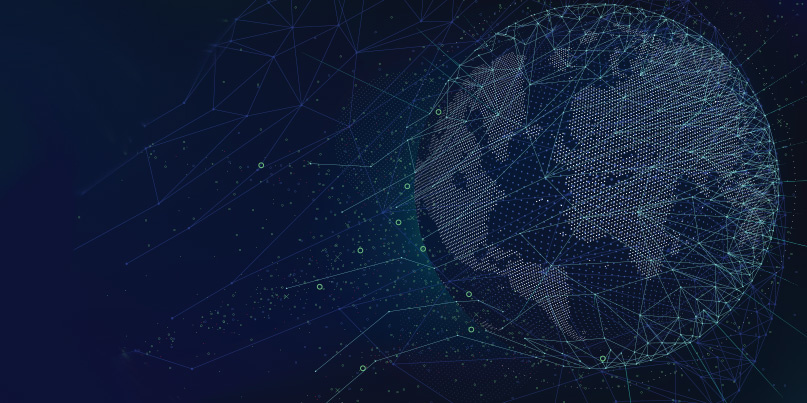 The World Economic Forum (WEF) has named cyber-attacks as one of the top long-term threats facing the planet in its annual global risk analysis report.
The Global Risks Report 2020, published on Wednesday (January 15), names large-scale cyber-attacks and the associated breakdown of critical information infrastructure and networks, within its list of forthcoming disasters.
This is if action and international cooperation isn't taken, the report (non-HTTPS PDF), now in its 15th edition, says.
The WEF also lists a number of economic, geopolitical, environmental, and societal risks as looming dangers, including failure to take action towards the climate and social instability caused by water crises, food shortages, and involuntary migration.
The report – based on the responses of a reported 750 global experts and decision-makers – forecasts a year of increased domestic and international divisions and economic slowdown.
Cyber-attacks have become a steadily increasing risk, as well.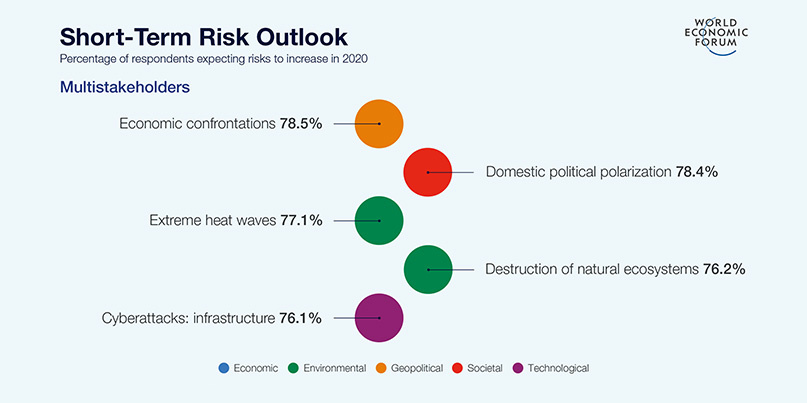 The majority (76.1%) of respondents in the study thought that cyber-attacks on infrastructure systems would increase in 2020, and most (75%) also expected cyber-attacks resulting in financial or data theft to rise within the year.
A WEF spokesperson told The Daily Swig: "Cyber-attacks are now an every day threat to people, businesses, and government.
"More than 50% of the world's population are now connected and approximately one million more [people] go online each day," the spokesperson explained.
"But as opportunities have increased, so have the risks."
Data breaches and attacks on IoT systems are driving the expanding concerns, the spokesperson added, alongside the amount of personal information that exists online without the adequate defense measures.
Risk management
The WEF study, produced in partnership with Marsh & McLennan and Zurich Insurance Group as well as academic advisors at the University of Oxford, the National University of Singapore, and the Wharton Risk Management and Decision Processes Center (University of Pennsylvania), calls for a multi-stakeholder approach to mitigating risk at a time when "the world cannot wait for the fog of geopolitical disorder to lift".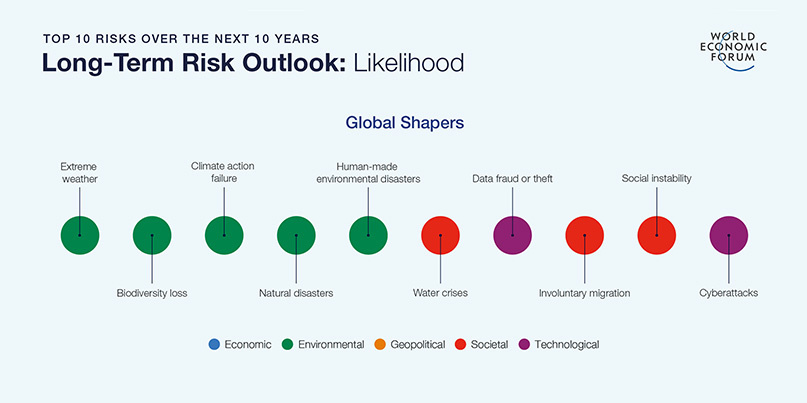 Renaud Deraison, co-founder and CTO at Tenable, commented in a press release: "The prospect of attackers turning the lights off, manipulating the water supply or bringing cities to a crashing halt may seem unrealistic, but we've seen evidence of threat actors testing their capabilities in all corners of the globe.
"It should come as no surprise that 76% of respondents in [the] WEF's study said that they expect disruption of operations and infrastructure from cyber-attacks to increase in 2020."
All the geopolitical turmoil is having an effect on the ground.
For example, a survey sponsored by security vendor Radware found a substantial increase in the percentage of cyber-attacks attributed to cyber war, up from 19% in 2018 to 27% in 2019.
The study – based on 561 individual respondents who represented a wide variety of organizations around the world – found that an approximate one-third of respondents experienced a distributed denial-of-service (DDoS) attack in the past year.
Of those who were attacked, 91% experienced application-layer attacks, primarily domain name system (DNS) or HTTP/HTTPS Flood attacks.
The biggest threat to companies' cloud environments were web and application intrusions (27%), and data leakage/information loss (30%) topped the list of concerns arising from cyber-attacks named by respondents to Radware's study (PDF).
YOU MIGHT ALSO LIKE Paris Call, one year on: Assessing the impact of global cybersecurity declaration