Users are calling to boycott the social media platform after millions of profiles were used to assist Trump's election campaign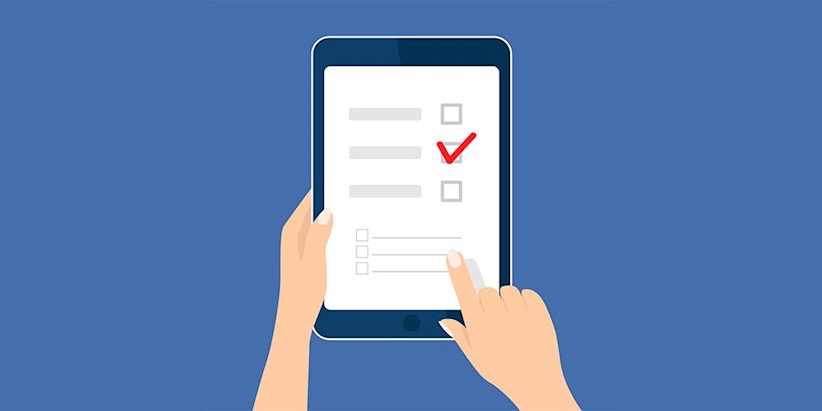 UPDATED
In news that might not come as a surprise to some, Facebook is
embroiled in the middle of a data-harvesting scandal
after more than 50 million profiles were allegedly used to analyze voters' political leanings.
This data, mined by British based firm Cambridge Analytica, was collected from a Facebook personality quiz called thisdigitallife.
It reportedly took data from profiles to build an algorithm which was then used to predict and influence Donald Trump's election campaign and the 'Leave' campaign during Brexit polls.
The app also allegedly viewed the data of users' friends lists – meaning it only needed hundreds of thousands of players to reach millions.
Alexander Nix, CEO of Cambridge Analytica, denies the claims which came to light due to whistleblower Christopher Wylie.
But this latest disclosure has caused some social media users to question what data the Silicon Valley company holds on them, and what information apps are able to access.
The hashtag #DeleteFacebook was trending on Twitter worldwide, as some called for a boycott on the platform.
Others slammed Facebook CEO Mark Zuckerberg for failing to address the scandal, despite UK MPs summoning him to give evidence.
Facebook has since assured users it will take steps to protect their privacy by controlling permissions for apps, therefore restricting the data third-party applications can gain access to.
These plans were detailed in a blog post, in which Facebook also revealed that up to 87 million people had their information "improperly" shared with Cambridge Analytica.
This was an increase on the original figure that suggested 50 million people were affected.
If you're still concerned though, here are a few steps you can take to protect your own information from being misused:
Check which apps are using data without permission
Some apps will use your data without asking for your permission.
They do this by looking through their users' friends list – so if one of your Facebook contacts has signed up, the app could be checking out your data too.
Cambridge Analytica's personality quiz, for one, was allowed to view the data of its users' wider network.
As the social media platform put it: "People on Facebook who can see your info can bring it with them when they use apps. This makes their experience better and more social."
By default, data such as your religious and political views, hometown, and current city are available to these apps.
To change this, go to the 'apps others use' section under settings and apps, and click edit.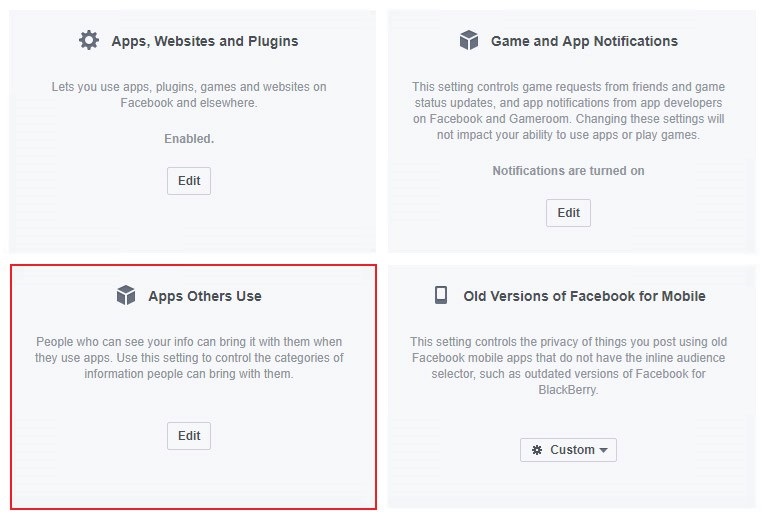 There, you can uncheck the tick boxes and remove the data types you don't want to be shared with an app you're not using.
Then click save, and this option will no longer be available to third parties.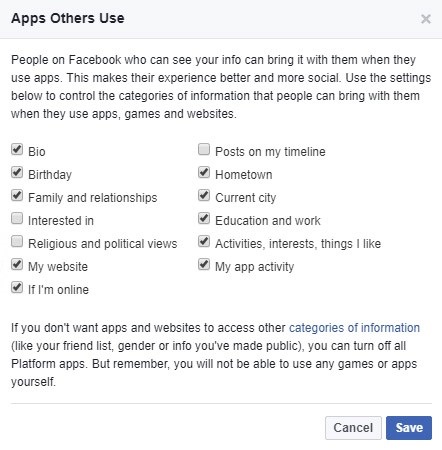 Check out app permissions
You should also check which apps you've given permission to, and what they're allowed to access.
Click on settings and then the apps tab to bring up a list of applications you're currently logged into.
These will include anything you've accessed using single-sign on software and games or quizzes you've used within Facebook.
You can hover over the apps and click the edit settings button to view a list of the information the app can view or use – including your birthday, friends list, and work history.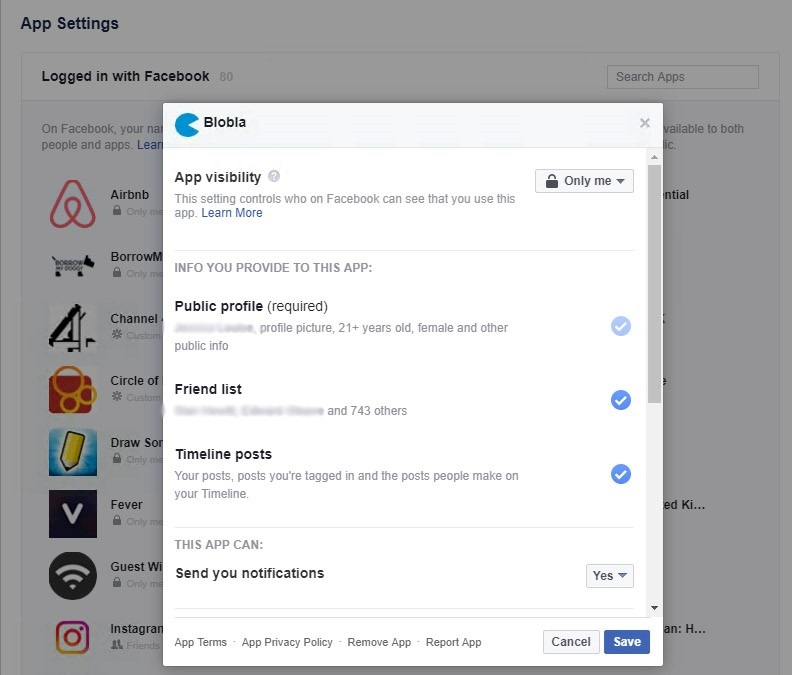 The next part is up to you – you can either uncheck the topics you're not comfortable sharing or choose to remove the app by clicking at the bottom of the box.
Note that by removing the app, it doesn't mean the data it holds will be wiped too.
Turn off platform API sharing
Another more extreme way to stop applications from viewing or using your data is to turn off platform API sharing.
This will stop data from being shared or stored, but will also prevent you from using Facebook to log into any other apps such as Instagram, Pinterest or Spotify.
Consider wisely whether to use this option, since it could result in you losing data – for example playlists in the Spotify app, or reviews on your Airbnb page.
If you're ready to go ahead, click on settings and apps as before, and click the edit button under apps, websites and plugins.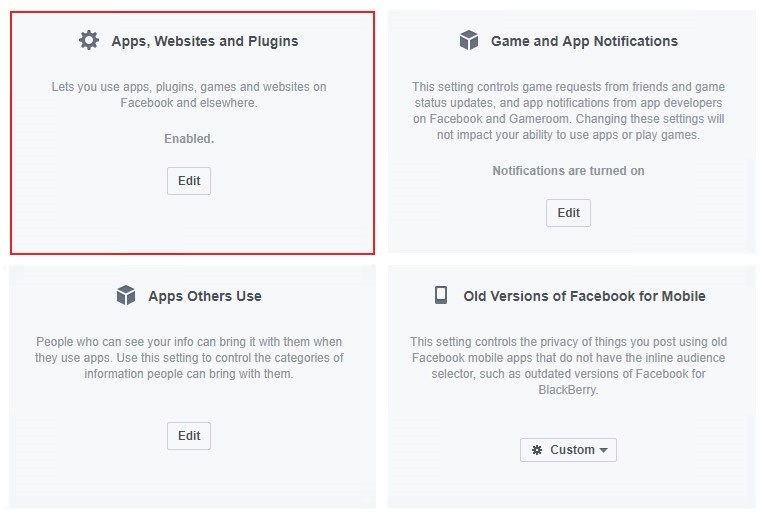 It should be enabled as default, and all you need to do is change this to disabled.
But again, this doesn't mean your data will be deleted by these apps.
Want to delete your data permanently?
Facebook suggests that in order to wipe the information apps have stored, you need to contact them directly and request it to be removed.
But to delete your own posts, pictures, and other information online, it can be more time consuming.
The best way is to go through your profile and manually delete the data.
What to do if you're still concerned about your privacy
The best way to stop your data from being viewed, used or shared by anything is to delete your Facebook profile altogether.
This can be a drastic step, however, and one that some people can't commit to due to work or social pressures.
If you do decide to delete your Facebook though, it won't be as easy as it looks.
Facebook will try to get you to deactivate your account, meaning that your profile will appear invisible, but your data will remain on its servers.
This option is good for the undecided, as the profile can be reinstated afterwards.
To find this, click on settings and under manage account, choose deactivate account.
But to permanently delete your profile and your data, go to this page and request to be deleted.

Facebook won't actually act on your request for a few days, during which time you can login if you change your mind.
If you go ahead with it, your posts, pictures, likes, and all trace of your profile will be removed over the following 90 days.
Your messages to friends might still be visible, but your personal information won't be, and you won't be able to log back in with the same email address again.
Sound too complicated?
There is a simple way you can add the most basic of privacy measures to your profile, but it won't stop your data from being used.
One of the first things to do is ensure your profile is private – you can check and change this by clicking on the privacy tab, under settings.
In the same tab, you can determine who can also see your friends list and what information people can use to search for you.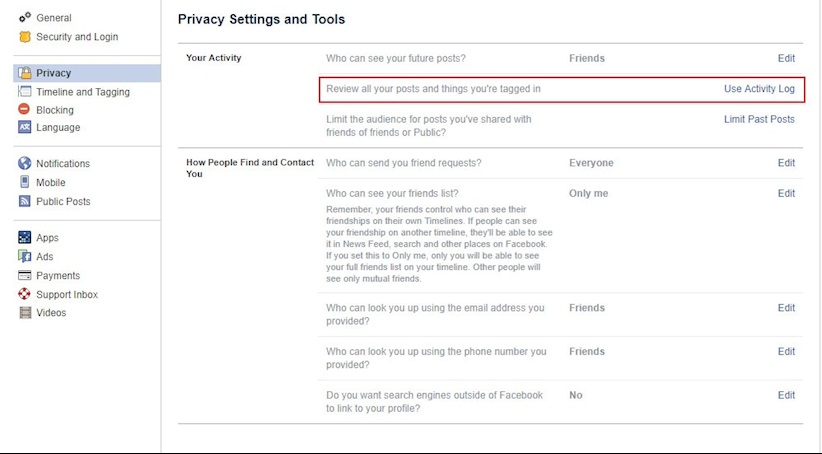 Another privacy setting you might want to consider is Facebook's activity log, which stops people from tagging posts to your timeline without approving them first.
Remember it won't stop your information from being misused, but it is a tiny step in the direction of becoming more security savvy.