Speaking at WithSecure's annual conference, Mikko Hyppönen discussed the threat landscape between the two nations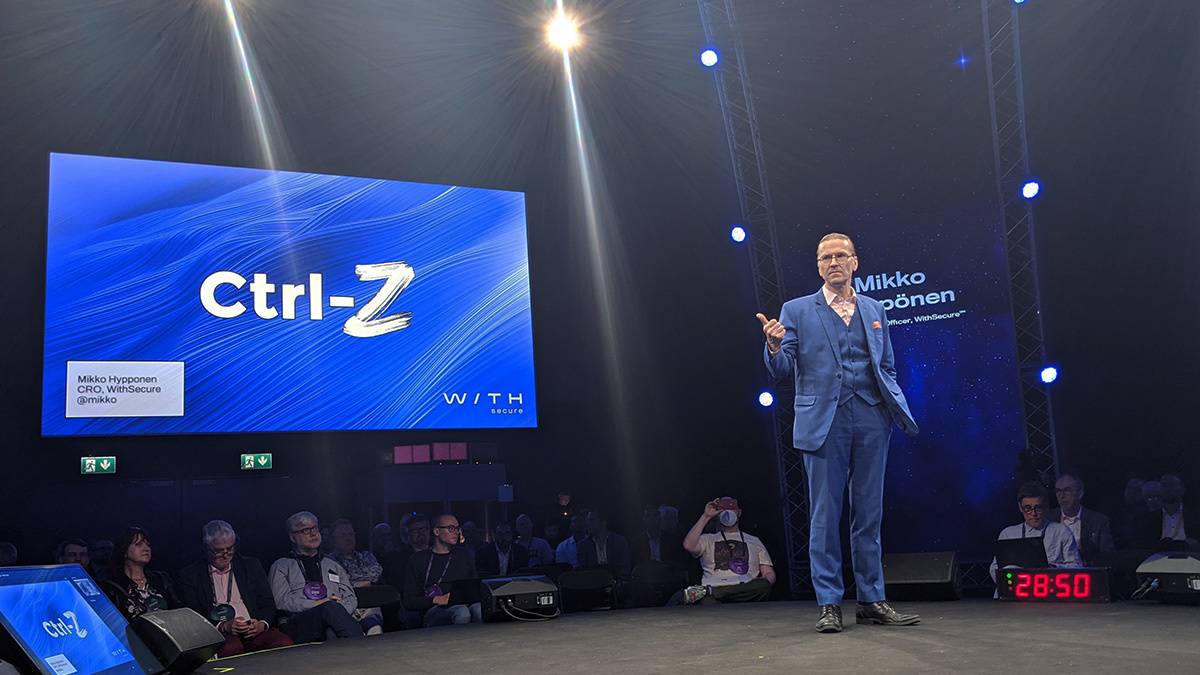 Russia is failing in its mission to shake Ukraine's cyber resilience as the country continues to successfully thwart cyber-attacks from its oppressor.
That was the takeaway from WithSecure's Sphere conference this week, as chief research officer Mikko Hyppönen told attendees that Putin's regime is "largely failing".
During the event, held in Helsinki, Finland, Mikko shared insight into the conflict between the two countries, which has now been ongoing for more than three months.
Read more of the latest security news from the Ukraine conflict
Since even before its invasion of Ukraine began on February 24, 2022, Russia has conducted a series of cyber-attacks against both the country's internet infrastructure and other critical services in an attempt to destabilize Ukraine.
Reports of cyber activity between the two states have dwindled somewhat in recent months, Hyppönen told attendees, but not due to a lack of such attacks.
Instead, says Hyppönen, the decrease in media attention is because Ukraine is successfully thwarting Russia's cyber assaults. After all, he says, the attacks that were not successful rarely make the news.
Hyppönen said: "They've been trying to do things like this over and over again, so the lack of activity in offensive cyberspace that we've seen over the last few months is not because Russia isn't trying – they are trying – but we aren't seeing more activity because Ukraine is defending [successfully].
BACKGROUND Microsoft report unmasks at least six Russian nation-state actors responsible for cyber-attacks against Ukraine
"Ukraine has been able to defend itself both in the real world but also in the online world. In fact, I'll claim that Ukraine is the best country in Europe to defend its networks against governmental attacks from Russia.
"Why is that? Well, it's because they've been doing it for eight years. They've been doing it for real, over and over again."
'Russia is failing'
According to Hyppönen, Ukraine is currently experiencing three times more attacks as it was this time last year.
"Russia is trying, but it is largely failing," he said.
His comments come as German financial regulator BaFin warned this week (May 31) that European financial markets should be on high alert following a recent increase in cyber-attacks.
In a security notice, BaFin said that a number of distributed denial-of-service (DDoS) attacks had targeted German banks and financial services.
BaFin believes that these attacks originate from Russia, which continues to suffer economic sanctions following its invasion of Ukraine.
READ MORE Ukrainian ISP used by military disrupted by 'powerful' cyber-attack
It's not just Europe that is feeling the effects of this war. US military leaders confirmed to Sky News yesterday (June 1) that it has conducted "a series of operations across the full spectrum; offensive, defensive, [and] information operations".
US-based Microsoft is also, Hyppönen says, for "the first time in history is taking an active stance against the war".
Microsoft is indeed actively disrupting attacks from Russia targeting Ukraine, notably from Russian hacking group Strontium, which the company claims is a Russian GRU-connected actor it has "tracked for years".
Hyppönen ended his talk by encouraging greater collaboration.
"Taking a stand here is really simple, it's really obvious. I think we all choose to stand with Ukraine. We choose to stand with democracy, and we choose to stand against evil.
"During this war, we've again and again seen the images from the battlefield, we've seen Russian tanks and trucks carry the Z symbol.
"On your computer keyboard, Ctrl+Z means undo. So what we should be doing right now is to Ctrl+Z."
YOU MAY ALSO LIKE Government agencies in Ukraine targeted in cyber-attacks deploying MicroBackdoor malware