Cambridge Analytica whistleblower Christopher Wylie opens IP Expo Manchester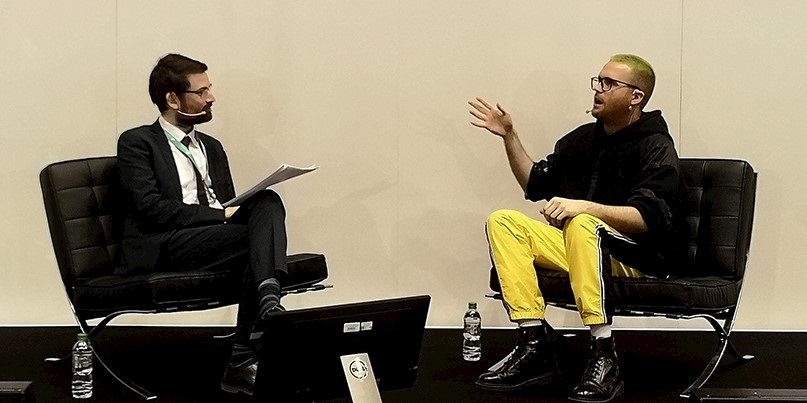 A year has passed since Facebook was thrown into one of its most colossal scandals to date. And for Christopher Wylie – the man who blew the whistle on Cambridge Analytica's highly controversial harvesting of personal data for political gain – change to our digital ecosystem has been slow.
"The first part of change is changing understanding, and changing some of the language and discourse that we have," he said, taking the stage to deliver the keynote address at the fifth annual IP Expo Manchester today (April 3).
"I think one of the things that's really promising is that regulators and politicians are starting to understand that these [social media platforms] are not services – these are architectures that operate in society as utilities do."
In March 2018, The Guardian published documents it obtained from Wylie, illustrating how his former employer, Cambridge Analytica, was harvesting Facebook users' data in order to manipulate behavior for political campaigns.
"Facebook authorized the app," Wylie said, explaining how the tech giant was fully aware of the malicious potential of This Is Your Digital Life – the app created by an academic and subsequently abused by Cambridge Analytica to collect personal information about users without their consent.
"Their [Facebook] excuse was that they just didn't read the Terms and Conditions."
The dataset that Cambridge Analytica was able to amass from Facebook prompted international outcry, leading to a series of ongoing government investigations into the largely unchecked power that tech giants currently hold.
Wylie, having provided evidence to US Congress and the UK's Digital, Culture, Media and Sport (DCMS) Committee, among others, lamented on his frustrations with government regulation and attempts at giving power back to users through legislation such as the General Data Protection Regulation (GDPR).
"For some reason, technology is the only sector where we expect the burden of responsibility to be on the consumer," he said.
"Try using the internet and avoid touching Google, Facebook, Amazon, and all the sites that connect to their ad display network.
"It's kind of impossible."
Consumer choice in a global environment that puts greater emphasis on convenience, rather than well-being, has been amplified in the growing connectivity brought on by social media and internet of things (IoT) devices.
While navigating the Terms and Conditions of products and services, users are provided with an illusion of privacy – something Wylie calls "consent washing".
"A lot of home heating systems now won't work unless you send data to the company," he said.
"So, imagine, 20-years down the road, when everything comes with artificial intelligence in it, and even if you buy a toothbrush, you're consenting to something.
"It's consent washing," he said.
Now, with his notorious pink hair replaced with a new lime green do, Wylie continues to push for greater accountability in Big Tech, while spending the majority of his time these days bringing the benefits of data collection and machine learning to the world of fashion.
"We are trusting our entire lives to [tech] companies that don't do anything," he said, referring to the lack of action allegedly taken by Facebook over the years – from the amplification of violence in Myanmar, to the more recent live stream of a massacre in New Zealand.
Privacy, and what that means amid the prevalence of personal information put online by users themselves, is another area that, Wylie believes, governments should focus on, particularly as the level of public data awareness continues to rise.
"Privacy is the thing that allows you to grow and develop as a person on your own terms," he said.
Writing in The Washington Post last week, Mark Zuckerberg called on governments to play a greater role in regulating content online and proposed industry-wide standards to create to manage responsibility for personal data.
"I do not trust this company one iota when it comes to facial [recognition] data," Wylie said. "Or any data, frankly."

RELATED Facebook and Cambridge Analytica: Big data… even bigger questions