Intruder bugfix - nonstandard charsets
Dafydd Stuttard | 15 September 2007 at 09:42 UTC
Just to placate the salivating hordes who accost me on a daily basis demanding to know when the next release of burp will be available, here is some more evidence that I'm not bluffing and work is actually well underway on the new release.
One annoying bug in Intruder is that the payload positioning marker doesn't work when the JRE is set to use some unusual character sets. Instead of the § character, the payload marker appears as a red box or some other character altogether, which doesn't get recognised when you try to launch an attack. This affected Japanese, some Linux users and other subversives whose character set wasn't set to en-US: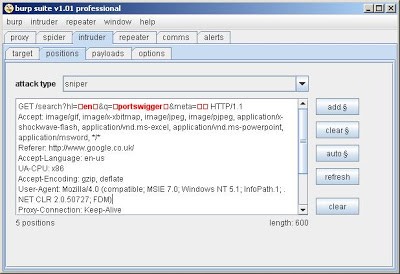 Well, the good news is that this has been fixed in the next release. I'd be most grateful if anyone who experienced this problem could try it out and let me know whether it works for you. If this bug didn't affect you, don't bother with the download as it contains nothing else that differs from the current release version.