PortSwigger is recognized as a 2020 Gartner Peer Insights Customers' Choice for Application Security Testing*
Emma Stocks | 13 November 2020 at 14:42 UTC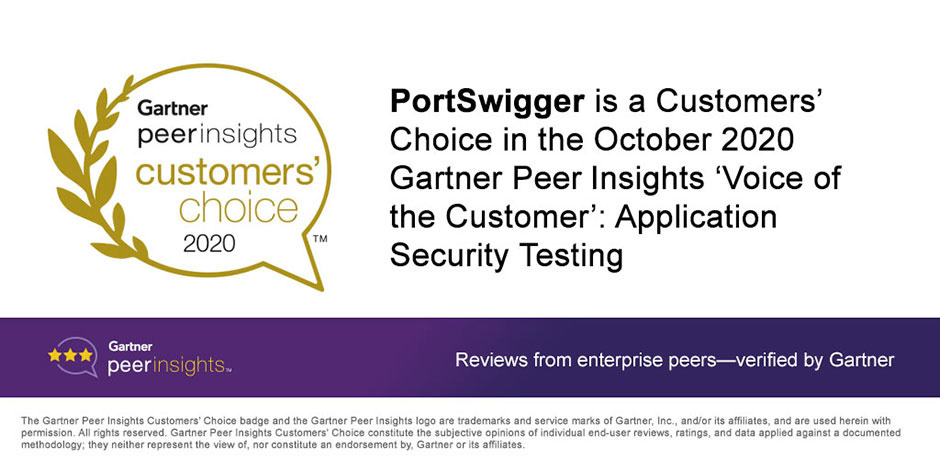 The PortSwigger team is excited to announce that we have been recognized as a Customers' Choice in the October 2020 Gartner Peer Insights 'Voice of the Customer': Application Security Testing.
Our core mission as a business is enabling the world to secure the web. We believe that receiving this distinction is a fantastic recognition of the hard work we consistently put in to create fantastic products for our customers, as it demonstrates our commitment to enabling customer feedback and insights to continue to shape our products and services.
The Gartner Peer Insights Customers' Choice is a recognition of vendors in this market by verified end-user professionals, taking into account both the number of reviews and the overall user ratings. To ensure fair evaluation, Gartner maintains rigorous criteria for recognizing vendors with a high customer satisfaction rate.
Here's what some of our customers had to say
The best must have tools for any security pro.As a security professional/expert/researcher you need to have Burp. There are other tools but none is even close. Burp is essential to do any security tests.
- Security Manager, Finance industry (Read full review.)
Best penetration testing tool I have ever used.
Easy to use and powerful. Burp Suite has amazing features, such as an intruder, decoder, repeater, scanner and etc. It acts as a proxy to our websites and also we can use it for mobile app pentesting. We can tamper the outgoing packet and see how the server responds. This is the ideal tool for penetration testing.
- Consultant, Services industry (Read full review.)
Burp Suite - Complete security testing package with strong scanning techniques.
Burp Suite is a powerful proxy tool for web applications. It has a very efficient scanning ability. It can detect the vulnerabilities very easily. When the scanning is done, it also generates reports. Its interface is very easy to learn and the installation process is also very fast. Security checking can also be done by Burp Suite.
- Software Engineer, Services industry (Read full review.)
Read more reviews for PortSwigger here.
What's most important to everyone at PortSwigger is creating happy customers, by delivering the best product. To that end, we are thrilled to have been recognized by our customers as a 2020 Customers' Choice for Application Security Testing. To learn more about this distinction, or to read the reviews written about our products by the IT professionals who use them, please see the Application Security Testing page on Gartner Peer Insights.
We wouldn't be where we are today without input and feedback from our customers. To all of our customers who took the time to submit a review as part of this process, we thank you. The experience you have when using our products and services helps to shape our future plans.
If you have a PortSwigger story to share, we'd love to hear from you. Visit our social channels, get in touch with our Customer Happiness team, or join the Gartner Peer Insights crowd and weigh in.
---
*The Gartner Peer Insights Customers' Choice badge is a trademark and service mark of Gartner, Inc,. and/or its affiliates, and is used herein with permission. All rights reserved. Gartner Peer Insights Customers' Choice constitute the subjective opinions of individual end-user reviews, ratings, and data applied against a documented methodology; they neither represent the views of, or constitute an endorsement by, Gartner or its affiliates.