PortSwigger teams up with HackerOne for AppSec workshop - 6 April
Matt Atkinson | 25 March 2021 at 14:37 UTC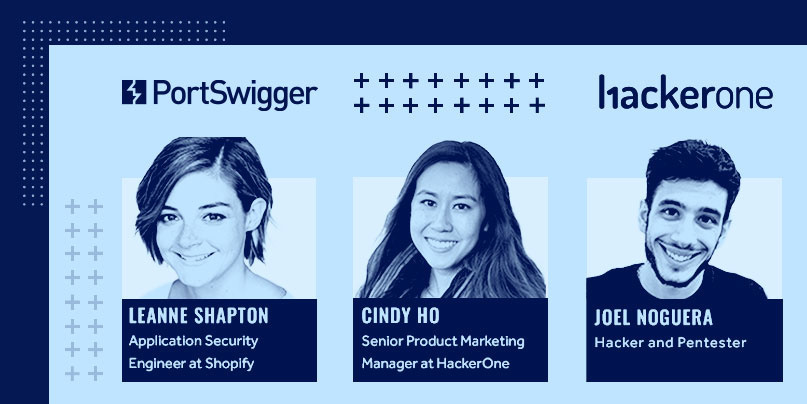 Tuesday 6 April, 2021 | 10 AM PT / 1 PM ET / 6 PM GMT
Update: this webinar can now be viewed on HackerOne's site, here.
AppSec is a tricky business. While expertise remains scarce, threats are only getting more common, and the stakes are soaring ever higher. With these issues in mind, PortSwigger is teaming up with HackerOne - curator of the world's largest ethical hacker community - to bring you AppSec wisdom from some leading Burp Suite users.
On Tuesday 6 April, 2021, we'll be joined by Leanne Shapton - AppSec Engineer and Burp Suite user at Shopify; Joel Noguera - ethical hacker and pentester; and Cindy Ho - Senior Product Marketing Manager at HackerOne.
The one hour workshop entitled "How to perform effective web application security assessments" will have a particular focus on Burp Suite - with Shopify being users of both Burp Suite Enterprise Edition and Burp Suite Professional - and will cover subjects including:
Shopify's approach to incorporating security into product review processes to support the development of their app-store and marketplace.

How automated vulnerability scanning complements penetration testing, bug bounty programmes, and other security processes.
Advice for security teams on partnering with software developers.
How to balance automation with human intuition.
How to identify weaknesses faster, to spend more time on what matters.
Register now, and don't forget to mark the date in your calendar. This will be a great event for anyone looking to maximize the strength of their organization's AppSec, and gain a greater understanding of how they can use the various editions of Burp Suite to do this. Can't make it live? Sign up and get access to an on-demand recording after the event.