[V13P] Scripts and comments search
Dafydd Stuttard | 24 November 2009 at 12:21 UTC
Pro users can now search part or all of the site map for scripts and comments. This feature is accessed by selecting relevant branches within the site map, and using the context menu.
The search results window shows responses from all Burp tools containing either scripts or comments. Selecting an individual item shows the full request and response in a preview pane, with relevant items automatically highlighted, and also extracted into their own tab: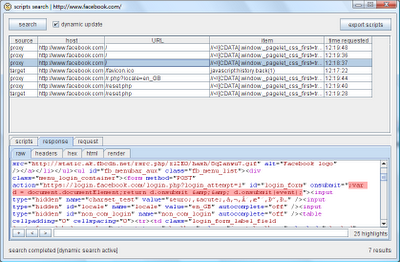 You can use the "export" button to save all of the scripts or comments to file or to the clipboard, optionally consolidating duplicated items. I know a lot of people have been grepping Burp's log files to get this kind of information. Hopefully the new feature will make this task a lot easier.