Cybersecurity reporting
Web security reporting sounds mundane. But it's a crucial process if your organization wants to improve its cybersecurity. As the saying goes, "What gets measured, gets managed." In other words, it's through the process of measuring performance that we are able to improve it.
The latest reporting methods are completely automated. They put everything on a single, clean dashboard. This works for everyone: from sysadmins and dev leads, to security teams and CISOs. And it will change how you think about cybersecurity.
Vulnerability reporting can help you improve your security posture
No matter how you cut it, cybersecurity is a complex subject. Organizations with extensive online estates often lack insight into their own security posture. Simply producing more cybersecurity reports will not solve this problem. Such data needs to be of high quality and requires proper management to make it useful.
Stringent compliance legislation already generates more paperwork than most CISOs can deal with. You shouldn't have to struggle to visualize your security posture on top of that. By simplifying the process, you'll more easily see where your weaknesses lie. That means you can target resources at resolving them.
Burp Suite Enterprise Edition helps you do all this and more. Mirror your organization's layout in your reporting structure. Create readily accessible dashboards for groups of web properties. See clear graphics within groups for key metrics such as:
Security posture evolution over time.

Change in the number of bugs detected, ranked by severity.

Overall severity of reported vulnerabilities.

Most serious vulnerabilities detected.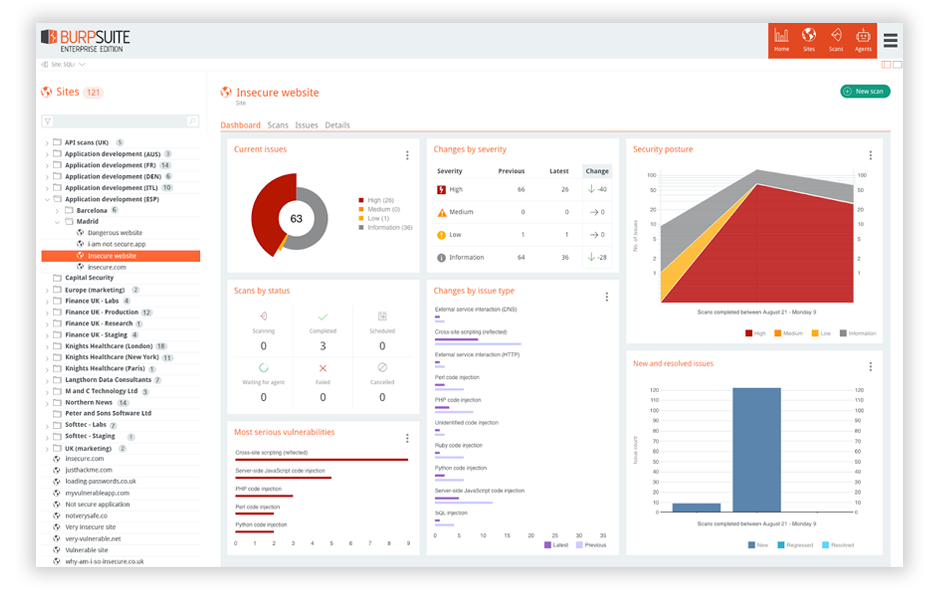 Why does security posture matter?
It could easily be another industry buzzword. But posture is actually a useful concept when thinking about cybersecurity benchmarking. It's a logical, holistic approach that brings everything together in a central location. And by doing this, vulnerability reporting becomes much easier. This is true even in Agile environments where code is regularly updated.
Development and security teams need to demonstrate to CISOs that vulnerabilities are decreasing. CISOs need to report that to boards. And boards need to have faith in the process. On top of everything, you need to show compliance at all times. A centralized approach makes this much easier, by streamlining your web security reporting.
To know where your security stands, at any given moment, is a powerful thing. And that's the essence of a good security posture. It allows you to know not only where you are right now, but also how you could react to a potential threat. No one's security is perfect. Contingency planning makes all the difference, should the worst happen.
Could your organization benefit from improved web security reporting?
Security reporting can be time-consuming, difficult, and annoying. But this needn't be the case. Writing your monthly or quarterly security risk assessments shouldn't fill you with dread. Improving and automating your reporting process will win back precious time and resources. But the benefits don't end there.
The largest gains stand to be made by organizations engaged in software development. Automated reporting highlights where developers need support and where improvements are being made. Integrated software like Burp Suite Enterprise Edition even helps to educate development teams. This means cleaner code and fewer vulnerabilities to fix.
Improved web security reporting is a great opportunity for most organizations. Investment here can pay huge dividends in terms of both efficiency and threat resilience. It also makes compliance easier to achieve. Burp Suite Enterprise Edition combines these capabilities with the world's most widely used web vulnerability scanner.