Top 10 web hacking techniques of 2022 - nominations open

Published: 04 January 2023 at 13:52 UTC

Updated: 24 January 2023 at 12:32 UTC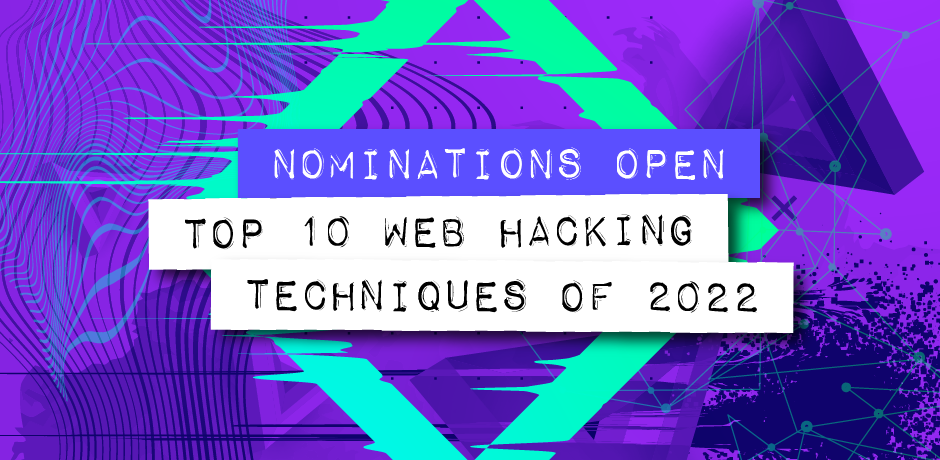 Update: Voting is now closed, and the panel vote is in progress.
Nominations are now open for the top 10 new web hacking techniques of 2022!
Every year, security researchers share their latest findings with the community in a firehose of presentations, whitepapers and blog posts. While every post is valuable, some contain something special - innovative ideas and techniques that can be re-applied elsewhere.
Every year since 2006, the community has pulled together to delve through the year's findings and identify the top ten most innovative and reusable new techniques. It's time we once again dig through our notes, nominate and vote to select the top ten from 2022. If this is your first time encountering this project, you can find the full origin, history and purpose of this project on our dedicated top 10 page, along with an archive of past winners and explanation of what differentiates it from related projects like the OWASP Top Ten.
This year, we'll target the following timeline:
Timeline
Jan 4-15: Collect community nominations for the top research from 2022
Jan 17-24: Community votes on nominations to build a shortlist of the top 15
Jan 24: Launch panel vote on shortlist to select and order the 10 finalists
Feb 08: Publish top 10 of 2022!
What should I nominate?
The aim is to highlight research containing novel, practical techniques that can be re-applied to different systems. Individual vulnerabilities like log4shell are valuable at the time but age relatively poorly, whereas underlying techniques such as JNDI Injection can often be reapplied to great effect. Nominations can also be refinements to already-known attack classes, such as Exploiting XXE with Local DTD Files. For further examples, you might find it useful to check out previous year's top 10s.
How to make a nomination:
To submit, simply provide a URL to the research, and an optional brief comment explaining what's novel about the work. Feel free to make as many nominations as you like, and nominate your own if you think it's worthy! I'll filter out weaker nominations and merge overlapping ones to keep the total number manageable.
Nominations are now closed.
We don't collect email addresses - to get notified when the voting stage starts, follow @PortSwiggerRes on Twitter or @albinowax@infosec.exchange on Mastodon

Nominations
I've made a few nominations myself to get things started, and I'll update this list with fresh community nominations every few days.