PROFESSIONALCOMMUNITY
Task Logger
Last updated: October 20, 2023

Read time: 1 Minute
You can examine traffic generated for a single task. This enables you to investigate a task that behaves unexpectedly, or monitor the progress of a specific task.
To view task-specific log entries:
Go to Dashboard, and scroll down to the relevant task in the Tasks field.
Click on the View details icon for the task. A window opens with details of the task.
Select the Logger tab in the task window.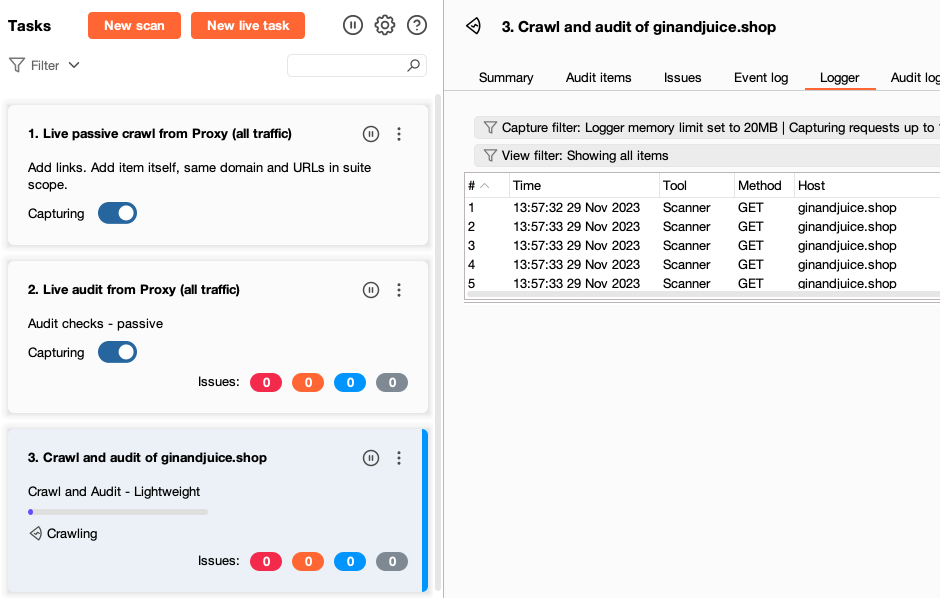 The task-specific Logger functions in a similar way to Burp Logger, with a couple of notable differences:
The default memory allocation for each task is only 10MB, or 20MB if you give Burp Suite access to 1GB or more of memory.
You cannot capture or filter by tool, as the task-specific Logger only captures and displays traffic from the tool used for the task.
Related pages
For information on how to edit what the task-specific Logger captures and displays, including memory allocation, see Burp Logger settings.
Was this article helpful?
An error occurred, please try again.